By Jorge Casuso
April 18, 2023 -- New buildings in Santa Monica will be required to provide gender-neutral public restrooms under an ordinance the City Council will take up on Tuesday.
The new law would apply to "all newly constructed buildings for which a complete building permit application for construction is submitted to the City on or after July 1, 2023."
The proposed ordinance does not apply to existing buildings, which can continue designating restrooms specific to gender, according to staff.
"Not feeling safe using the restroom influences all aspects of a person's life and can deter people from accessing education and employment, connecting with friends and community members, seeking medical services, or doing all of the daily mundane things required by life," staff wrote in its report to the Council.
According to the report, "Surveys have repeatedly shown that a large percentage of the trans and gender non-conforming communities avoid public restrooms and alter their diets to avoid having to use public facilities."
In addition to fostering "greater inclusivity and equity," the gender-neutral designation can have some practical benefits, staff said.
"We have all experienced at some point when women are lined up to use facilities while men have no line," staff wrote.
"There are also many families with young children of different genders, whereby this would provide greater access for them when family designated stalls are in use."
The proposed ordinance includes possible designs that can be used to meet standards required under the ordinance.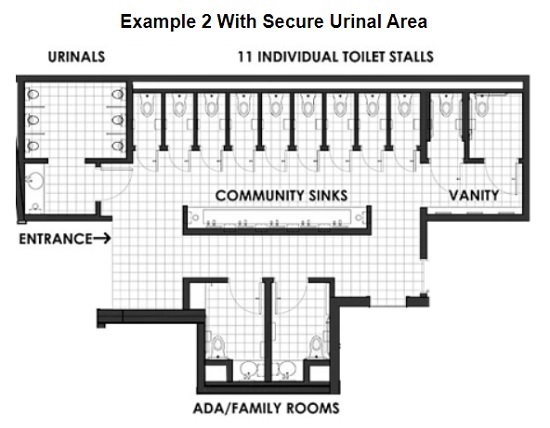 Proposed design for gender-neutral restroom (Courtesy City of Santa Monica)
The standards bar entrances with doors that "obstruct or prevent visual security" and require stalls to be replaced with "private water closets" with four walls "extending from up to one inch above the floor and/or from the ceiling" with locking mechanisms on the door.
Sinks can be included in the water closets or grouped in an adjacent common use area, while urinals "would be located in an area visually separated from the remainder of the facility or in an individual compartment(s)."
Santa Monica paved the way for the ordinance when it co-sponsored with West Hollywood a State bill that was signed into law last September.
The bill authorizes a city to require that new or renovated public toilet facilities "be designed, constructed, and identified for use by all genders instead of the design standards for separate facilities for men and women" under the California Plumbing Code.
The bill will remain in place "until such a date that standards for all-gender, multi-user facilities are provided for in the California Building Standards Code," staff said.