By Jorge Casuso
October 28, 2022 -- A recent push poll of Santa Monica residents concerned with public safety found 20 percent had not decided which City Council candidates to support, down from 50 percent two months ago.
Asked which three candidates they would vote for in the November 8 race for three open seats, 52 percent chose slow-growth activist Armen Melkonians, while 50 percent chose Councilmember Lana Negrete.

The text message poll of some 150 residents conducted between October 21 and 27 found the remaining nine candidates all had the support of less than a quarter of the respondents.
Recreation and Parks Commissioner Albin Gielicz, who along with Melkonians and Negrete is supported by the police union, finished third with 22 percent of the vote.
All three held the top spots in the Pulse poll taken two months ago but have since built on their support by winning over undecided voters ("'Pulse' Poll Finds Most Local Voters Undecided," August 29, 2022).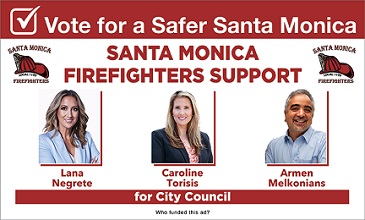 Rent Board Commissioner Caroline Torosis was the fourth choice with 20 percent of those polled supporting her.
Planning Commissioner Ellis Raskin and public policy advisor Jesse Zwick -- who along with Torosis are backed by Santa Monicans for Renters' Rights (SMRR) and the hotel workers union -- were supported by 13 percent of those polled.
The strong showing by Melkonians and Negrete came after Unite HERE Local 11 launched the hardest hitting campaign against a Council candidate in three decades ("Hotel Workers Union Steps Up Attacks," October 10, 2020).
The monthly poll also found scant support for the rival transfer tax measures sponsored by Mayor Sue Himmelrich and Councilmember Phil Brock.
Twenty-six percent of respondents favored Brock's transfer tax, which would charge $25 per $1,000 on commercial properties that sell for $8 million or more to boost City services and programs cut back during the coronavirus shutdown.
Seventeen percent backed Himmelrich's $56 per $1,000 transfer tax hike for properties that sell for $8 million or more to fund affordable housing, homelessness prevention and public schools.
Most of the respondents -- 57 percent -- said they support neither of the measures or were unsure, up from 51 percent a month ago.
If both measures get the majority vote required, the one with more votes becomes law ("Opposing Arguments Promise Bitter Transfer Tax Battle," August 10, 2022).
As with previous polls, the latest Santa Monica Pulse poll was sent to nearly 1,000 residents who "previously opted in to receive more information on education efforts surrounding crime and safety in their city." It had a 15 percent response rate.
The poll is conducted by Eyes on 11, a hotel union watchdog. Those who wish to be included in the next poll should email their name and cell phone number to SaMoPulse@gmail.com.