January 10, 2022 -- Although Santa couldn't make it to the Miramar's annual Meet Me Under The Fig Tree celebration again this year, the holiday event spurred plenty of giving.
Fairmont Miramar Hotel & Bungalows' month-long charitable food and clothing drive generated more than 3,750 pounds of non-perishable food items and hundreds of pieces of clothing for those in need, hotel officials announced last week.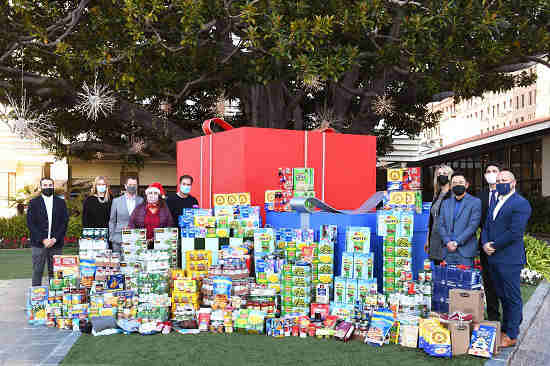 Miramar Hotel officials and their partners with holiday donations (Courtesy of Fairmont Miramar Hotel)
Held in partnership with SantaMoniCARES, the eagerly awaited event -- which was canceled last year in order to comply with the State's Safer-at-Home order -- was held for the second year in a row "with the pandemic and safety top of mind."
"We are so proud of our Santa Monica community for rallying together to give back to those in need this year," said Ellis O'Connor of MSD Partners, which owns the hotel.
"Following a year with many peaks and valleys, we are honored to have had the opportunity to continue to serve those who are less fortunate whilst ensuring the safety of local Santa Monicans and visitors alike," O'Connor said.
The ongoing health emergency nixed the traditional visit from Santa and halted the faux snow and family-friendly activities that have made Meet Me Under The Fig Tree a Santa Monica holiday tradition.
But the tradition of giving back persisted under the 140-year-old 80-foot tall Moreton Bay Fig Tree, which was adorned with festive holiday lights and featured oversized gift boxes for locals and travelers bearing gifts.
The Westside Foodbank will distribute the food to individuals and families in need, while the clothing will go to clients of Chrysalis, a local non-profit job agency that helps low-income and homeless adults find work.
"It is so meaningful to us and the community to have the on-going support of the Miramar, which has been a generous and dedicated partner of ours for many years," said Genevieve Riutort, deputy director of Westside Food Bank.
"Together we have helped hundreds of individuals and families in need," Riutort said. "We are grateful that this tradition has continued despite the uncertain times that we all find ourselves in."
Misti Kerns of Santa MoniCARES praised the community for continuing to give during tough economic times.
"As our community continues to navigate a strained economic environment, it's vital to support the organizations that make food, clothing and jobs accessible to those in need," said Kerns, who heads Santa Monica Travel and Tourism (SMTT).
"We are proud to continue our annual partnership with the Miramar to support the missions of Westside Food Bank and Chrysalis as we work together to strengthen our community," Kerns said.
Meet Me Under the Fig Tree capped a year of giving for the Miramar, which celebrated its centennial year, and its community partners.
Together, they "raised thousands of dollars for Liberty Hill Foundation, with charitable posters, PRIDE initiatives, and Breast Cancer Awareness Month givebacks," hotel officials said.