By Jorge Casuso
February 17, 2021 -- There's plenty of activity around Mars this month, and the Santa Monica College (SMC) John Drescher Planetarium will offer three shows updating the missions that have arrived at the Red Planet.
The orbiters and rovers launched by the United States, China and the United Arab Emirates' (UAE) will continue the search for signs of life and pave the way for human exploration, planetarium officials said.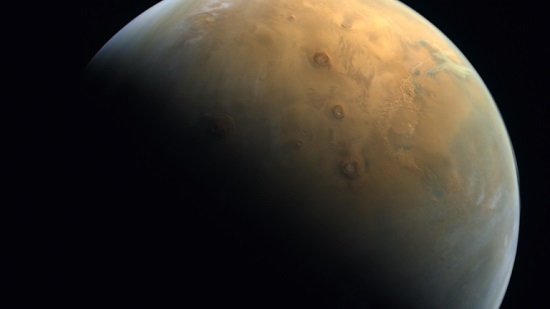 Photo of Mars from "Hope" Orbiter ( Photo courtesy Space.com)
The show "Mars Probe Arrival Updates" -- which features the latest news and images from the three missions -- will be presented by Senior Lecturer Jim Mahon and Associate Lecturer Sarah Vincent.
Shows will take place Friday February 19 and 26 at 8 p.m. and Sunday, February 28, at a 2 p.m. matinee. All three shows are presented via Zoom.
The United Arab Emirates' first interplanetary mission, the spacecraft "Al-Amal" -- which means "hope" in Arabic -- reached Mars on Febuary 9 after a nearly seven-month journey from Tanegashima Island in Japan
The day after its arrival, the orbiter captured a stunning photograph that clearly shows clouds, four massive mountains and the Valles Marineris, the largest canyon in the solar system.
The orbiter will map the climate during an entire Martian year, which is the equivalent of 687 Earth days.
NASA's Mars 2020 Perseverance mission -- expected to arrive at the Red Planet at 12:55 p.m. on Tuesday -- will attempt to land the agency's fifth rover on Mars' Jezero Crater, the most challenging Martian terrain targeted for a landing thus far.
The rover will "seek signs of ancient life and collect samples of rock and regolith (broken rock and soil) for possible return to Earth," according to NASA.
Perseverance will "also test technologies to help pave the way for future human exploration of Mars," NASA officials said.
China's Tianwen-1 spacecraft is currently orbiting Mars and according to Space.com "is slated to perform systematic checks of onboard equipment after adjusting its orbit in preparations for the country's first Martian landing attempt later this year."

The shows are preceded an hour earlier by a streamlined, virtual digest of the popular Night Sky Show that offers the latest news in astronomy and space exploration and the chance to ask astronomy-related questions.
The planetarium is exploring a variety of ways to present its shows while the Santa Monica College (SMC) campuses are closed due to the COVID-19 pandemic.
Currently, the planetarium is using the Zoom platform. To attend the shows, the Zoom software version 5.0 or higher must be installed on the viewer's computer. A free download is available at zoom.com.
More information is available online at smc.edu/planetarium or by calling 310-434-3005. Shows are subject to change or cancellation without notice.