By Lookout Staff
October 14, 2020 -- The City Council on Tuesday approved a plan to add 19 miles of protected bike lanes to the more than 100 miles that already reach across much of the city.
Part of the City's 20-year Bike Action Plan Vision, the new lanes will add 15 new miles over the next five years and 4 miles programmed for construction in the next year.
"This is an exciting next step to creating a bike network that enables residents of all ages and abilities to move more safely outdoors while also helping us make progress on our long-term climate, safety, and mobility goals," said Chief Mobility Officer Francie Stefan.
The protected bike lanes separate people bicycling and scooting from motorists, "reducing opportunities for conflict and creating an environment that is more welcoming to a broader array of people," City officials said.
Using data, transportation officials identified 17 corridors to construct the new protected lanes, which studies show can reduce collisions by 45 to 90 percent.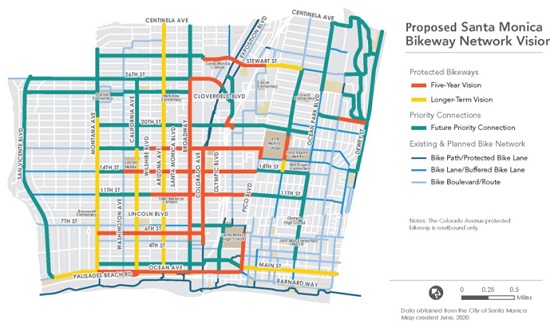 Map courtesy City of Santa Monica
Earlier this year, Santa Monica launched a pilot on Broadway from 16th to 20th Street that serves as a model for future lanes.
Next month, construction is slated to begin on a protected bike lane on Ocean Avenue from California to Colorado that connects to the California Incline and Colorado Esplanade.
The Incline and Esplanade already have protected bike lanes. The t project is scheduled to open for community use in December, officials said.
"Many of the 5-year projects in the update already have identified funding possibilities from outside sources," officials said.
"Santa Monica's Mobility Division regularly submits applications for outside transportation grants to supplement local investments."
Santa Monica Mayor Kevin McKeown touted the safety benefits the protected lanes bring to the beach city.
"Knowing safety is a key concern for residents who wish they felt comfortable bicycling more around our city, we've grabbed the safety issue by the handlebars," McKeown said.
"If you like our 19 miles of green-painted bike routes, you'll love 19 miles of safer protected bike lanes along key bicycling corridors."
To follow the progress of protected bike lanes in Santa Monica, visit www.smgov.net/BAPA.