By Lookout Staff
November 24, 2020 -- A group of local institutions and community organizations distributed 1,455 free Thanksgiving meals to needy students and local residents at Santa Monica College (SMC) on Tuesday.
The grocery boxes were handed out during a drive through organized by SMC, the SMC Foundation, the City, the local Boys and Girls Club and Community Corporation of Santa Monica, the local affordable housing provider.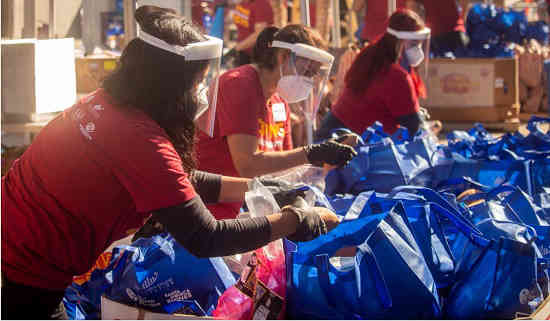 Thanksgiving food distribution at SMC (Photo by Andrew Boone courtesy of SMC)
The boxes -- which were distributed by more than 200 volunteers at SMC's main campus -- contained a whole turkey, fresh produce, dinner rolls, non-alcoholic beverages and a pumpkin pie, organizers said.
"Even by the most conservative estimates, the number of households without dependable access to nutritious food has, at the very least, doubled," said Santa Monica College President Dr. Kathryn E. Jeffery.
Jeffery cited a Spring 2020 survey by The Hope Center that found 44 percent of two-year college students were struggling with food insecurity.
"Behind those numbers are real people, members of our communities," she said. "This joint effort to positively impact students and families during a pandemic is just one way to help replace their stress and anxiety with some joy."
SMC has launched innovative several efforts to feed the needy.
In March, Everytable, in partnership with the SMC Foundation, opened its first SmartFridge -- which offers students affordable meals starting at under $5 -- at the school's Center for Media and Design campus.
In early April, during the COVID-19 emergency, the school distributed some 750 meals to needy students at an inaugural drive-thru pantry.
The drive-thru Giving Thanks(giving) holiday pantry -- which took place from 10 a.m. to 6 p.m. -- required recipients to make advanced reservations through the participating organizations.
Sixteen businesses -- most of them food related -- and organizations helped sponsor the event.
"Santa Monica thrives when we help each other," said Interim City Manger Lane Dilg. "This is one of many chances to give in a year when we must, more than ever before, come together as a community."
The City is inviting members of the public to continue the spirit of giving by making a donation to the Virginia Avenue Park food pantry.
The pantry supports Santa Monica families facing food insecurity throughout the holiday season. To donate visit calfund.org/wearesantamonica and select HOLIDAY FOOD PANTRY under Area of Support.