By Jorge Casuso
August 6, 2020 -- The City of Santa Monica issued a warning Wednesday that it will begin enforcing its face covering order this week, with those in violation facing an initial fine of $100.
"Beginning this week, we'll be doing targeted enforcement for face coverings in business districts and parks in Santa Monica," City officials announced on Tweeter.

"Save $100 and save your health by masking up," the post reads.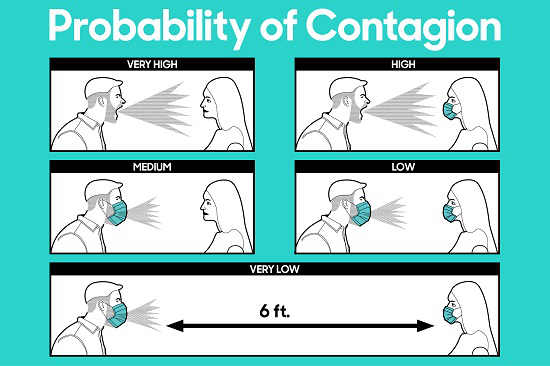 Illustration courtesy City of Santa Monica
The announcement comes four months after the City issued its first order on April 9 requiring customers and workers at local businesses to wear face coverings in an effort to control the spread of the coronavirus ("Santa Monica Workers, Customers Must Wear Face Coverings or Face Fines," April 9, 2020).
Since March 17, Code Enforcement has completed 23,093 business checks, issued 88 citations and 91 stop work orders to Santa Monica businesses for various COVID-19 violations, said Constance Farrell, the City's spokesperson.
These include violations of the face covering order, which carries fines of up to $500 for patrons and $1,000 for businesses, Farrell said.
In May the City extended the order and expanded it to include wearing the face coverings outside one's home ("Santa Monica Orders residents to Wear Face Coverings Outdooors," May 14, 2020).
Face coverings must be worn when "individuals are or can be in contact with or walking near or past others who are non-household members in both public and private spaces."
These include walking through common areas such as hallways, stairways, elevators and parking facilities, officials said.
"A face covering must be visible and ready to be immediately put on whenever a moving person approaches within 30 feet of a non-household member," according to the order.
Santa Monica is among 17 California cities and counties that have imposed a fine for not wearing a mask or face covering in public.
They include Beverly Hills and Manhattan Beach which, like Santa Monica, issue fines starting at $100, and West Hollywood, where fines start at $300 for the first violation.
Some cities have voted to reject fines, most recently the coastal City of Carlsbad in San Diego County.
On Thursday, the Carlsbad City Council deadlocked on whether to impose fines for violating the face covering order, effectively killing the measure.
"The council does support wearing face masks, but questions lingered about the constitutionality, enforcement, medical exemptions and how aggressive police should react to those not in compliance," the Coast News Group reported.
One Council member who opposed the fines cited potential legal hurdles in enforcing the ordinance, according to the report.
California Health and Human Services Secretary Dr. Mark Ghaly recently touted the use of face coverings to stop the spread of COVID-19.
Ghaly cited studies he said show that if 80 percent of the people complied with the State's order to wear the coverings, the transmission rate would drop by 50 to 60 percent.
But some medical experts question the efficacy of wearing face coverings outdoors to curb the spread of the virus.
Dr. Joseph A. Ladapo, an associate professor at UCLA's David Geffen School of Medicine, believes that "indoor -- not outdoor -- transmission is the driver of the pandemic."
In a column published in the Wall Street Journal on Monday, Ladapo cited a contact tracing study in China involving 318 outbreaks and 1,245 cases of Covid-19 that found one incident of outdoor transmission.

"This basic evidence didn't stop District of Columbia officials from threatening $1,000 fines on people not wearing masks outdoors," Ladapo wrote.
"Policies like this are about politicians flexing power and looking tough," he said. "They are not about public health."
Ladapo was among the "Frontline Doctors" who questioned the medical response to the coronavirus pandemic in a viral video censored by major social media outlets last week ("Prominent Santa Monica Doctor Featured in Censored Coronavirus Video," July 28, 2020).