By Lookout Staff
October 28, 2019 -- Santa Monica College (SMC) fielded its largest debtae team ever and walked away with nearly a dozen individual and team awards at the Crossman Invitational Tournament this month.
A total of 21 SMC students took part in the annual tournament held October 19 and 20 at El Camino College, which included teams from 16 community colleges and six universities.
The SMC team took first place in the Sweepstakes by earning more points than any of the other 15 community college teams, including those from Pasadena City College, Moorpark College and Los Angeles Valley College.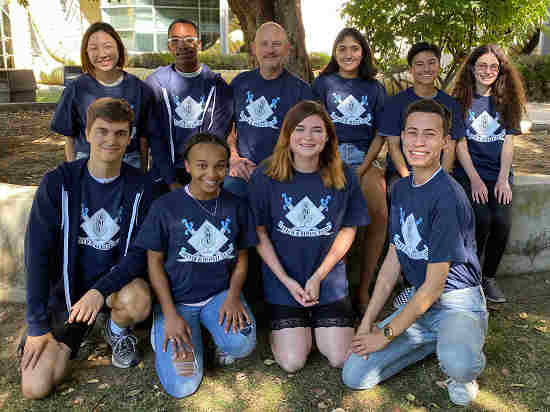 SMC Debate Team (back row from left) Rachel Sun, Yusef Vestle, Coach Nate Brown, Ariyana Tavakoli, Xochitl Buenabad and Jules Shinbrot (front row) Team Captain Brandon Chase, Gabby Montgomery, Kelsey Molle and Dexter Cypress. (Dom Smith and Genevieve Faherty are not pictured)
"We had the biggest team ever sent to a tournament, and half of them made it into the elimination rounds," said team captain Brandon Chase. "Our hard work and dedication is paying off."
Rachel Sun took first place in the Novice division, while Dom Smith took first place in the Open division of the International Public Debate Association (IPDA).
On day one, 13 SMC students competed in the National Parliamentary Debate Association (NPDA)team event, with Xochitl Buenabad, Dexter Cypress and Ariyana Tavakoli advancing to the octo-finals, team officials said.
Debate topics included "the importance of the rights to privacy and reforming sentencing of non-violent criminals in California."
Participants also debated "whether the method of conducting presidential debates needs reform and whether the U.S. should pass the Horse Racing Integrity Act."
On day two, 17 SMC students competed in the International Public Debate Association (IPDA) event, with 9 team members advancing to the elimination rounds and winning awards.
In addition to Sun and Smith's first place trophies, Genevieve Faherty placed second, while Dexter Cypress, Brandon Chase, Yusef Vestle, Kelsey Molle, Gabby Montgomery and Jules Shinbrot took third place.
Among the debate topics were universal basic income, paying college athletes, forgiving student loan debt and the advantages and disadvantages of rent control.
The Associated Students of Santa Monica College sponsored the SMC Speech and Debate Team's presence at the competition.
For more information on the team, contact Nate Brown at brown_nate@smc.edu or 310-434-8781.