By Lookout Staff
October 3, 2019 -- The Santa Monica College Speech and Debate team took over where the national champions left off last year, winning several top awards in the 2019-2020 season's first tournament.
The debate team took home four "Excellent" awards and one "Superior" award at the Pacific Southwest Collegiate Forensics Association "Warm Up" Tournament at El Camino College on Saturday, college officials said.
Eighty nine students from 15 two-year institutions from Southern California participated in the debate competition, officials said.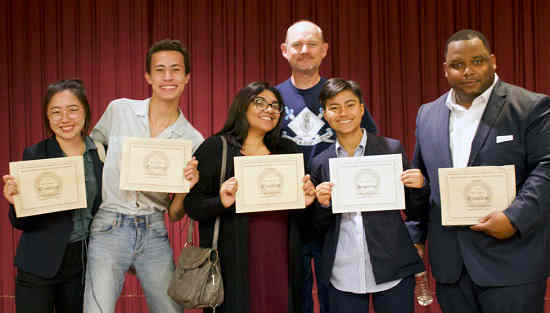 SMC Debate Team PSCFA "Warm Up" Tournament (L-to-R) Rachel Sun, Dexter Cypress, Brina Ross, Professor Nate Brown, Xochitl Buenabad and Brandon Anderson (Courtesy of SMC)
"After my first championship, I'm feeling incredibly motivated and excited toward my future in debate," said Dexter Cypress, who won an "Excellent" award.
"I'm beyond proud of my fellow teammates, and looking forward to the next competition," he said.
Cypress was one of 12 SMC students competed in the tournament, including five returning team members and seven SMC students who are new to the team.
Five of the new team members won high-level awards in the International Public Debate Association (IPDA) debate, which allows only 30 minutes to prepare before each of the four rounds of one-on-one debates.
SMC student Xochitl Buenabad received a "Superior" award for winning all four rounds.
Cypress, along with teammates Brandon Anderson, Brina Ross and Ruijiao "Rachel" Sun each received an "Excellent" award for winning three out of their four debate rounds.
Among the topics debated were "Pop culture does more harm than good" and "The United States should change the way it elects government officials."
Other topics were "Media stations should be responsible for fake news" and "The United States should reveal the truth about Area 51."
After the tournament Anderson said he "had a feeling that I was participating with the future minds and leadership of California."
The debate team comes off a stellar year capped with a major victory the Phi Rho Pi national speech and debate tournament in Reno, Nevada in April ("SMC Debate Team Wins National Championship," April 17, 2019).
SMC team captain Shaindi Schwebel took first place in International Public Debate at the tournament, where SMC was one of 56 community colleges that competed.

The Associated Students of Santa Monica College sponsored the SMC Speech and Debate Team's presence at Saturday's competition.
For more information on the team, contact Nate Brown at brown_nate@smc.edu or 310-434-8781.