By Jorge Casuso
May 6, 2019 -- Jay Trisler is going for a walk. The retired Santa Monica police lieutenant will leave the beach city on Thursday and walk to Downtown Los Angeles, and then he'll keep going.
He'll cross the San Bernardino Mountains and the Mojave desert and continue walking across Arizona, New Mexico, Texas and Oklahoma and on through Arkansas and Tennessee.
And he won't stop until he reaches Virginia Beach around seven months later and some 3,100 miles from home.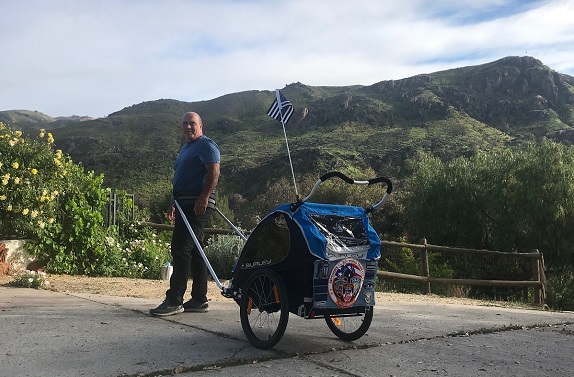 Photo courtesy of Jay Trisler
"I want to see the United States," Trisler said. "And I love to walk. I want to be in better shape."
After three decades in law enforcement, where he served as SMPD spokesman and headed the powerful Santa Monica police union, Trisler had hip and knee replacements and has put on weight.
"Hopefully I'll lose weight and it'll alleviate my hip and knee," he said.
But health isn't the only reason Trisler is walking.
"Besides my family, the most important thing to me is God and cops," he said.
And he is "saddened" by the negative portrayal of law enforcement in the media.
"I hope to have the ability and words to spread the good work that law enforcement does," he wrote on his blog godandcops.com.
During the long journey, Trisler will seek the advice of cops in the different towns he visits and trust in God to take him there.
"Many people have said I am crazy for attempting this," he said. "I have no expectations. If God takes me to a place, that's where I'll be."
His plan is simple and intentionally sketchy: He'll walk 8 to 10 hours a day, six days a week, which should amount to between 15 and 25 miles a day depending on the terrain, pushing and pulling his Burley cart.
Inside are a tent, a sleeping bag, two changes off clothes, bear spray and food and water he'll pick up along the way.
He'll stop after sundown and sleep outdoors. It's something he did on a nine-day walk he took three years ago down PCH from Santa Cruz to LA.
"Sleeping outside was probably my biggest trepidation," Trisler said. "I slept in little alcoves. It gave me a little more empathy toward the homeless."
He'll also rely on local police officers to point him to places where he can safely, and legally, spend the night.
"Some communities allow you to sleep in the park," Trisler said. "I'll rely on law enforcement to ask where you're not violating the law or trespassing.
"There's a lot of critters, but I have my bear spray."
Trisler has read numerous books by people who have walked across America, but they usually do it from east to west.
He also recently visited Thailand, where he experienced more heat than he's likely to encounter along the way.
"I'll rely on the goodness of people and a lot of praying," Trisler said.
To track Trisler's progress and read about hs experiences along the way visit godandcops.com