By Jorge Casuso
March 20, 2019 -- Bright spring galaxies, the most primitive object ever explored and the first check-up of Mars' interior are among the topics of shows at Santa Monica College's John Drescher Planetarium next month.
The show on April 5 offers updates of missions exploring the solar system -- from China's first-ever landing on the farside of the moon to the NASA's InSight Mission, which the space agency says is "the Red Planet's first thorough checkup" since it was formed 4.5 billion years ago.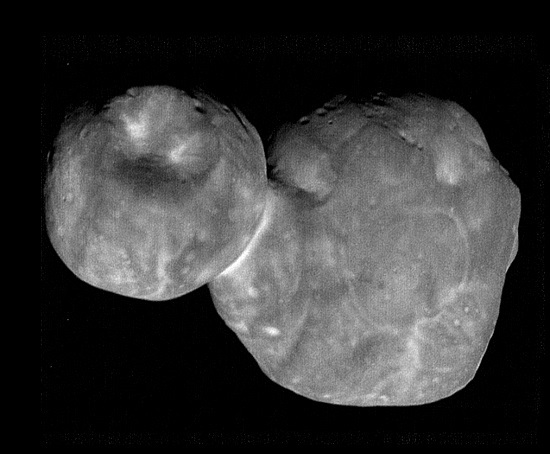 Ultimate Thule (Courtesy NASA)
Focusing on "humanity's collective quest to understand the cosmos," the show also will provide updates on the progress of Japan's Hayabusa 2, which rendezvoused with a near-Earth asteroid in June.
In addition, the show features photographs of Ultima Thule a "mysterious object" in Kuiper Belt which is thought to be the most primitive object ever encountered by a spacecraft, according to NASA.

The agency's website says some of the details captured on Ultima Thule's surface "are unlike any object ever explored before."
The April 12 show is a special observing event titled "First-Quarter Moon and Spring Skies!"
The show offers "a look through a variety of telescopes at a 7-day-old first-quarter Moon, with prominent craters like Alphonsus along the shadow line of the lunar terminator," event organizers said.
The telescopes' lenses will also be trained on Gemini and its twin bright stars Castor and Pollux, "some of the brighter spring galaxies in Leo and Virgo (if skies are very clear), and several star clusters."
If clouds intervene, the program will stay in the planetarium with high-resolution images, organizers said.
Next month's series concludes April 26 with a "Summer Star Party Planner," which offers "a practical guide" to gatherings of amateur astronomers to observe the evening sky.
The show "explains when to go, where to go -- from local urban and suburban locations to high mountains and deserts -- and what to bring to be a welcome star party visitor and participant."
The show repeats on May 3.
The feature shows and a telescope viewing session take place at 8 p.m. and are preceded at 7 p.m. by "The Night Sky Show," which offers "the latest news in astronomy and space exploration, a family-friendly 'tour' of the constellations and answers to astronomy-related questions.
The John Drescher Planetarium, which features a Digistar projection system, is located near the elevators on the second floor of Drescher Hall, 1900 Pico Boulevard.
Tickets are available at the door and cost $11 ($9 seniors and children) for the evening's scheduled "double bill," or $6 ($5 seniors age 60 and older and children age 12 and under) for a single show or telescope-viewing session.
For more information call (310) 434-3005 or visit smc.edu/planetarium. All shows are subject to change or cancellation without notice.