By Lookout Staff
April 26, 2019 -- The Santa Monica College (SMC) Music Department will showcase its talent during two concerts, one of them a fundraiser, at The Broad Stage next weekend.
The first concert, which benefits SMC's renowned Applied Music Program, takes place Friday, May 3, at 7:30 p.m. and features some of SMC's most gifted music students with a guest performance by the SMC Emeritus Gospel Community Chorus.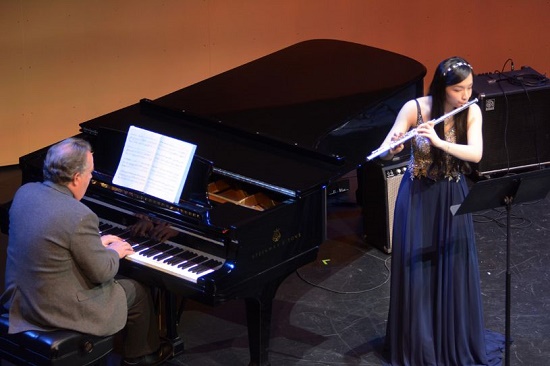 Student from SMC Applied Music Program performs (Photo by Randy Bellous)
The program -- founded in 2001 by Dr. James Smith and directed by Dr. Brian Driscoll -- is part of "SMC's continuing effort to blend top-tier arts education with high-quality performances for the public," school officials said.
The academically rigorous program is "dedicated to fostering the development of outstanding instrumentalists, vocalists, and composers, with the goal of preparing each student for successful transfer as a music major to a four-year university or conservatory," officials said.

It requires students to audition for the program and, if accepted, to take courses in ensemble, music theory, and performance, as well as private lessons.
The 80-member SMC Emeritus Gospel Community Chorus directed by SMC Emeritus professor William Bryant is known for its repertoire of authentic gospel songs.
Bryant, whose background includes directing the Calvary Baptist Church choir, has performed with several music legends and and toured with Marvin Gaye.
On Sunday, May 5 at 2 p.m., the SMC Wind Ensemble, under the baton of Kevin McKeown, will perform "an exciting, lighthearted 'Young Persons Guide' concert showcasing the various instrument families" of the ensemble.

The program includes "Bugler's Holiday," "Lassus Trombone," "Tuba Tiger Roll," "Greensleeves" and "Amparito Roca."

The ensemble will be joined by guest artists the Elemental Band, a group of talented elementary school students under the direction of Peter Senchuk.
Many will performing on The Broad Stage for the first time, organizers said. The concert will include a combined performance of "Remember Me" from Disney/Pixar's feature film Coco. All ages are welcome.
Both concerts take place in The Broad Stage at the SMC Performing Arts Center, 1310 11th Street (at Santa Monica Boulevard), Santa Monica. Tickets are $10.

For tickets and information, please go to smc.edu/eventsinfo or call 310-434-3005 or 310-434-4323.