By Lookout Staff
September 19, 2018 -- A group of some 550 volunteers organized by minority students from Santa Monica College helped clean up a once segregated stretch of local beach on Saturday.
The group was among more than 13,300 volunteers who removed 40,066 pounds of ocean-bound debris at 75 sites on beaches and neighborhoods across the County during Heal the Bay's 29th annual Coastal Cleanup Day.
Chainsaws, wedding rings and three live mice in glass bottles were among the items found in Los Angeles County.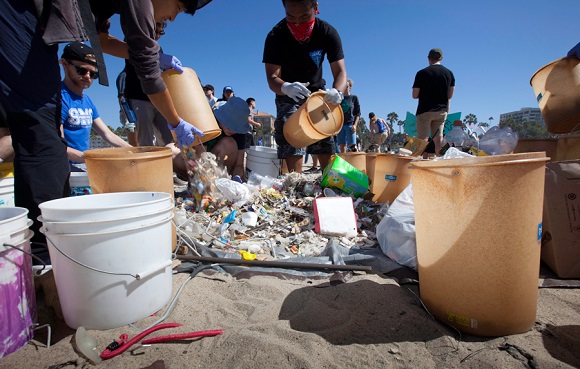 Santa Monica College students gather debris from former "Inkwell Beach" (Courtesy SMC student volunteers)
The local volunteers picked up 243 pounds of debris, including 43 pounds of recyclables, along the half-mile stretch of beach near the end of Pico Boulevard once known as the "Inkwell."
The local volunteers included members of Santa Monica College's Black Collegians, Adelante Club, President's Ambassadors and other programs who adopted the once segregated beach.

The students partnered with the Black Surfers Collective, the Black Historians, local schools and community members.
The historic site is where legendary surfer and SMC student Nick Gabaldón, who was of Black and Mexican descent, taught himself to surf.
Gabaldón began surfing in the early 1940s, when he was one of the few black students at Santa Monica High School.

In those days Los Angeles beaches were segregated, and the cordoned stretch of beach known as "Ink Well Beach" and "Negro Beach" was a place racial minorities could freely frequent.
Always looking for the best wave, Gabaldón would paddle 12 miles to Malibu, where he became part of a tight brotherhood of surfers, according to the film "12 Miles North: The Nick Gabaldon Story."
Gabladon died in June 1951 at age 24 when he crashed into the Malibu Pier attempting a surfing move known as a "pier ride" or "shooting the pier."
"Nick Gabaldón and other African Americans challenged Jim Crow racism and helped open public beaches for all," the students said.