By Jorge Casuso
September 18, 2018 -- If you visit the north block of Santa Monica's Third Street Promenade you might notice people tossing bean bags or reading a book or even playing a piano on patches of Astroturf that might be somewhere else when you return.
It's part of an experiment launched by Downtown Santa Monica, Inc. to help re-imagine the popular strip that was redesigned as Santa Monica's "living room" in the late 1980s.
Now, as the Promenade prepares to celebrate its 30th anniversary next year, Downtown officials are confronting their biggest challenge yet as the Internet ushers in seismic shifts in shopping trends.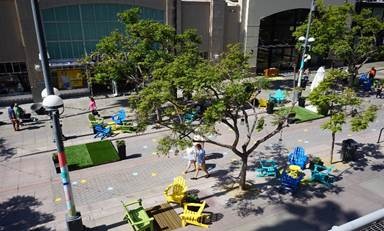 Image courtesy DTSM
"The Promenade needs to go through a new transformation," said Kathleen Rawson, DTSM's CEO. "It's time for us to contemplate a new investment. This is an experiment to try it out."
Next September marks 30 years since the Promenade became an international model for enlivening moribund central business districts by offering an "experience" that went beyond shopping.
Part of the "Promenade 3.0" process -- funded by the City and DTSM -- the experiment is an effort "to assess the Promenade's infrastructure needs and learn how people use the space to better inform possible changes to how it is designed."
The experiment is being conducted on the strip's least busy stretch -- the north block, which lies between Arizona Avenue and Wilshire Boulevard.
"The block doesn't have as many people," Rawson said. "It was a good opportunity to use it as a blank slate."
Last Wednesday overnight, the permanent furniture was removed and replaced with chairs and coffee tables that can be reshuffled atop movable platforms covered in Astroturf.
A couple might bring two chairs and lounge to read a book supplied by Friends of the Santa Monica Public Library or a group can grab a half dozen chairs and form a circle around a couple of coffee tables.
One of the 8-foot by 8-foot lawns invites visitors to a game of bean bag, another to play a piano. The small lawns can also be combined to form a large seating area for performances.
"It's extraordinary," Rawson said. "People are flocking to it. It really shows people want to hang out."
On a recent afternoon Rawson encountered two women nursing their babies and an elderly couple that "found it so interesting, they wanted to hang out a little longer."
There have been concerns the areas would be "overtaken" by the homeless who hang out on the strip, Rawson said. But during her recent stroll the only homeless person she saw using a space was playing "Piano Man" on the piano.
Similar experiments in placemaking have been conducted in New York's Times Square and in downtown Denver, officials said.
Promenade "guests" will be asked to provide their feedback using an online survey tool and "Happy or Not" kiosks, Downtown officials said.
Businesses will also be consulted to learn how the changes have impacted sales.
"We want people to continue to choose the Promenade as a place not just to shop and dine, but to hang out and enjoy the ocean breezes and abundant sunshine," said DTSM, Inc. Deputy Chief Executive Steven Welliver.
"We hope people will choose to spend time on the Promenade not because of a particular store, but because it's a cool, welcoming place to connect with others."