By Lookout Staff
September 17, 2018 -- Child sex trafficking, military families during war and Latinos in animation will be among the topics explored during Santa Monica College's fall Communication & Media Series starting this month.
The free series features a line-up of industry professionals who will "talk about their work and experiences, and offer advice," event organizers said.
The fall series kicks off Thursday, September 20, with award-winning bilingual actor Sofía Espinosa and directing animator Nickolas Rosario presenting a talk titled "Creating a New Animated Classic."
A writer, producer and director, Espinosa voiced the Mamá character in the Pixar Animation Studios film "Coco" , while Rosario has helped animate "Incredibles 2," "Inside Out," "Brave," "Toy Story 3" and "Wall-E."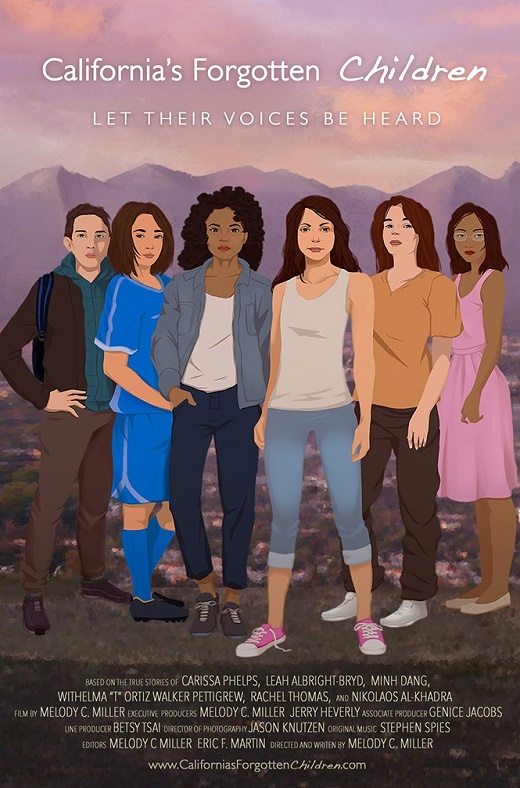 "California's Forgotten Children" poster
The two will discuss their experiences and share their "strategies for success," organizers said. The talk takes place at 11:15 a.m. in SMC Center for Media and Design, 1660 Stewart Street, Room 180.
The series continues Tuesday, October 16, with a performance by award-winning poet, writer and performer Denice Frohman titled "The Power of the Spoken Word."
A former Women of the World Poetry Slam Champion, Frohman will "perform a selection of poetic pieces and provide insight about the power each one conveys," organizers said.
Frohman's poems have appeared in "The Adroit Journal," "Nepantla: An Anthology for Queer Poets of Color" and "Women of Resistance: Poems for a New Feminism."
The performance takes place at 11:15 a.m. in the Main Stage at the Theatre Arts Complex on the Main Campus at 1900 Pico Boulevard.
On Tuesday, November 13, filmmaker Elena Miliaresis will take questions after a screening of her documentary, "While Time Stands Still," which "shows the challenges America's military families face during war," organizers said.
In the film, Miliaresis, a former producer for ABC News and E! Entertainment TV, recounts her own experiences as a military spouse and follows two military wives to "show the dramatic impact war has on families before, during, and after combat deployment."
The screening takes place at 11:15 a.m. in Stromberg Hall (HSS 165) on the Main Campus.
The fall series concludes Friday, November 30, with a screening of the documentary film "California's Forgotten Children," which explores child sex trafficking in the state.
The film "recounts true stories of girls and boys who were commercially sexually exploited in California and are now survivors and courageous leaders fighting for the rights of victims worldwide," organizers said.
The screening will be followed by a Q&A with the film's director, Melody Miller, a cinematographer and creative storyteller whose awards include the Motion Picture Association of America Award, Women in Film Award and Loreen Arbus Cinematography Award.
The screening takes place at 6:30 p.m. in the SMC Center for Media and Design Room 180.
Street parking is restricted around the SMC main campus and extremely limited around the Center for Media and Design. Attendees are encouraged to arrive via the Expo line, the bus, or a ride-sharing service.