By Lookout Staff
November 29, 2018 -- It will be snowing in Santa Monica when the City rings in the holiday season with the lighting of the official Christmas tree Friday evening on the Promenade.
The ceremony -- which takes place from 6 p.m. to 10 p.m. on the 1200 block near Wilshire Boulevard -- features "an immersive holiday light show with falling 'snow,'" Downtown officials said.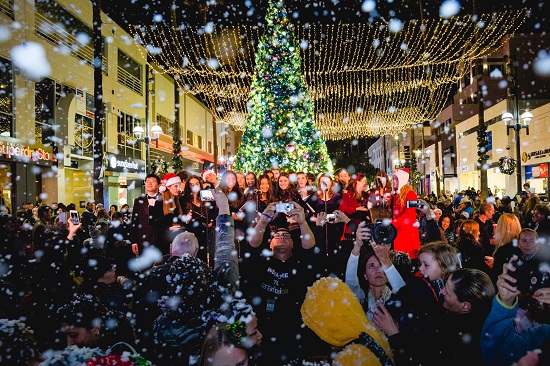 Holiday Tree Lighting (Courtesy Santa Monica Travel & Tourism)
There will also be live musical performances by the Santa Monica High School and Lincoln Middle School Madrigals, and the Santa Monica College Emeritus Band.
And Santa Claus will make an appearance at the event sponsored by Downtown Santa Monica, Inc (DTSM) and the City.



"Santa Claus is taking a short vacation in our beautiful seaside city and has graciously offered to attend and even take pictures with the kiddos, both big and small," Downtown officials said.

He and Mrs. Claus will stick around to take part in a variety of other events, such as breakfast and kids crafts, kids club and pets night.

The centerpiece of the festivities is the lighting of the Official City of Santa Monica Holiday Tree.

The ten-year-old tree -- which is 24 feet tall and 16 feet wide -- is owned by the City and DTSM, Inc., which "stores it and takes care of it throughout the year," officials said.
The tree lighting event produced by DTSM marks the beginning of the annual Winterlit celebration that turns Santa Monica's central business district into a glowing wonderland.
This year's offerings include the new Merry & Bright Light Show featuring "thousands of colorful, twinkling lights and a daily dancing neon light show," Downtown officials said.
The show, which is synchronized to festive show tunes and features falling snow, takes place every half hour between 5 p.m. to 10 p.m. at the 1200 block of the Promenade.
Once again, ICE at Santa Monica, which kicked off its 12th year on November 8, transforms a surface parking lot at 1324 5th Street into an 8,000-square-foot skating rink that will be open through January 21.
The rink -- which attracts an estimated 60,000 skaters each year -- provides skate rental and all-day admission of $15, with locker rentals of $5. It is open through January 21. For more information about ICE click here
This year's ICE offers "Plaza Film Nights," a film series that screens family films at 6 p.m. and LA-centric films at 8 p.m. and is sponsored by the developers of the proposed "The Plaza at Santa Monica."
For a full schedule of Winterlit events click here