By Lookout Staff
May 21, 2018 -- Santa Monica College's (SMC) Bachelors Degree program in Interaction Design (IXD) -- the first of its kind offered by a community college -- will celebrate its first graduates next month, school officials announced last week.
A "Grad Show" showcasing the works of its first 18 graduates will be held June 7 from 5 p.m. to 7 p.m. at SMC's new Center for Media and Design, 1660 Stewart Street.
There also will be a mixer with officials in the rapidly growing field, which blends user experience (UX), design and technology.
The guest speaker will be John Modestine, creative director of Ring, a global home security company owned by Amazon.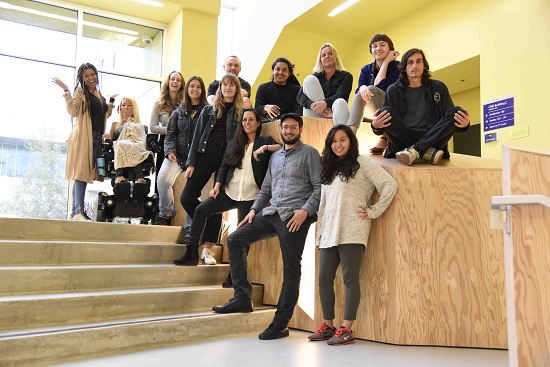 Santa Monica College Graduates in Interaction Design (Courtesy Santa Monica College)
"This is a historic moment for Santa Monica College," said Dr. Kathryn E Jeffery, SMC Superintendent/President.
"We are exceptionally proud of these 18 students as they leave SMC having made it through a rigorous program that transformed them into interaction designers with the skills needed to succeed in this dynamic field."
According to school officials, the students spent the first two years studying graphic design and the last two immersed in upper-division interaction design courses.
Students also completed related course work in computer science, business, cognitive psychology and media, among other disciplines.
SMC's four-year Interaction Design program is one of 15 baccalaureate degree programs approved for the first time by the California Community College's Board of Governors in 2015. The programs offer four-year degrees in everything from automotive technology to biotech.
Thirty-four campuses were selected for the historic pilot program after rigorous screening by a team of examiners, officials said.
The programs highlight the evolving role of community colleges that offer the degrees at a fraction of the cost charged by four-year universities.
Tuition at four-year private institutions that offer a comparable program can cost $160,000 or more, while the annual tuition for baccalaureate students at SMC for the entire four-year program is roughly $10,000, said Grace Smith, SMC's spokesperson.
Dozens of major high tech firms lobbied in support of SMC's program, including Microsoft, Warner Brothers, Disney, Fox TV and Sony Pictures Entertainment.
"The Los Angeles tech and media communities will be very grateful in the years to come for having a local pool of talented designers that are ready and eager to provide solutions for everyday problems," said Modestine, who started his security company in a garage in Pacific Palisades in 2011.
"We are very excited to see what the future holds for this program, and the relationships that can be fostered with Ring, and other companies looking for talented designers," Modestine said.