By Lookout Staff
June 19, 2018 -- Independence Day will be celebrated four days early this year when the annual "Celebrate America" festival once again offers a fireworks extravaganza on the Saturday before the 4th of July.
Admission is free to the 35th annual celebration June 30 at Santa Monica College's Corsair Field.
The City's official celebration will feature "a dazzling fireworks show" by Rialto-based Pyro Spectaculars Entertainment, live music by the lively Top Shelf Brass Band and DJ Disco Shrine.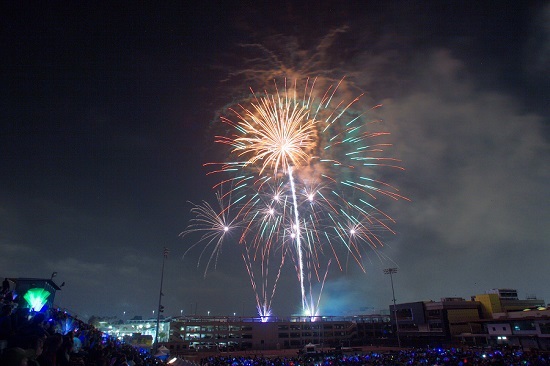 Santa Monica College fireworks display (Courtesy Santa Monica College)
There also will be a special appearance by the Santa Monica-based dance group LA Follies. Eddie Jauregui will return as Master of Ceremonies.
This year's festivities also include a food drive sponsored by the Associated Students of SMC to help students in need.
"Guests are encouraged to bring donations of unopened, nonperishable food items to one of the multiple drop-off locations that will be available," event organizers said.
The celebration also features community service booths, food trucks and food booths operated by Kettle Corn and Stuff, What the Funnel, and the Boy Scouts.
Picnicking is welcome, but alcoholic beverages, glass containers, barbecues, fireworks (including sparklers) and chairs with pointed legs are prohibited. SMC is a smoke free campus and all smoking is prohibited.
The college's celebration has been Santa Monica's sole fireworks display after the City's evening fireworks at the Pier, which drew hundreds of thousands of spectators, were scrapped in the late 1980s due to traffic and safety concerns.
In 1990, and the City began holding a "Dawn's Early Light" celebration at 4:45 am in hopes that the early hour would result in a thinner crowd.
The plan, however, backfired when Dawn's Early Light drew 250,000 people in 1991 and necessitated full deployment of police and fire forces for two days.

In 1992, faced with a celebration that would cost nearly $100,000 and clog the city's streets with traffic, the City Council decided to shelve the fireworks altogether in favor of a small afternoon celebration in Palisades Park.
The following year, Santa Monica College began hosting the fireworks display.
Parking lots for the festivities open at 4 p.m. (enter at Pico Blvd. and 17th St.), with Corsair Field gates opening at 5 p.m. Entertainment begins at 6 p.m. The fireworks are scheduled at 9 p.m.
The event is free (donations are welcome), and parking is $5. See the Celebrate America website, call (310) 434-3001 or email COOK_VINNESSA@smc.edu for additional details.
Celebrate America is presented by Santa Monica College and sponsored by the City of Santa Monica, Santa Monica Pier, Halton Pardee+Partners and Associated Students of Santa Monica College.