By Lookout Staff
January 16, 2018 -- A local artist whose water color landscapes celebrate the Southern California Coast will be on exhibit the Santa Monica College Emeritus Art Gallery starting this month.
The exhibition of landscape pastel works on paper created by award-winning artist Bruce Trentham opens with a reception on Thursday, January 25 from 5 p.m. to 6:30 p.m. at the gallery located on the first floor of the SMC Emeritus Campus, 1227 Second Street. The exhibit runs through March 7.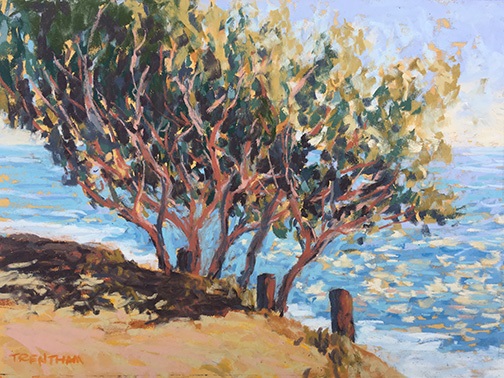 Bruce Trentham, "Magic Tree, Santa Monica", pastels on paper, 2014
"Trentham is a plein air pastel painter who creates compositions that invite the viewer to experience value, light, color, and form," event organizers said.
"His dramatic pastel paintings convey his love of the coast, canyons, and mountains of the Southern California landscape."

A board member and paint-out chair for the Allied Artists of the Santa Monica Mountains and Seashore, Trentham has taught drawing and pastel painting classes at Emeritus since 2007.
He also has given pastel painting demonstrations and conducted workshops for many art associations in the Los Angeles area, organizers said.

Trentham's paintings have won numerous awards and been exhibited in galleries, private collections, and on the TV series "The Mentalist."
"Surf and Rocks, Malibu Colony #1", pastels on paper, 2017
He also was commissioned by the California State Parks to create a work for the Topanga State Park Visitor Center.

Gallery hours are 8:30 a.m. to 4:30 p.m. Monday through Friday. For information, call (310) 434-4306.

SMC's Emeritus program offers more than 120 classes and special programs of interest to older adults.

Those who need an accommodation due to a disability to participate in this event should contact Stephanie Schlatter at schlatter_stephanie@smc.edu or (310) 434-4313, at least 5 business days in advance.