By Lookout Staff
August 28, 2018 -- Legendary pop artists Roy Lichtenstein, Andy Warhol and John Baldessari -- who created many of his major works in a Main Street studio in Santa Monica -- are among the artists on exhibit at Santa Monica College next month.
"Pop! Selections from the Frederick R. Weisman Art Foundation" will run Tuesday, September 4, to Saturday, October 13, at SMC's Pete & Susan Barrett Gallery, 1310 11th Street.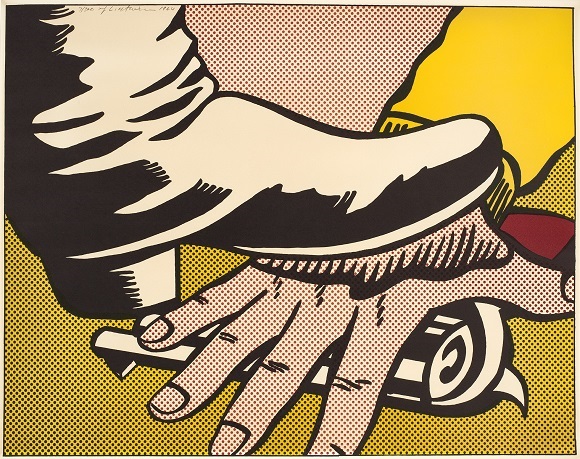 Foot and Hand, 1964, Roy Lichtenstein (© Estate of Roy Lichtenstein)
A reception will be held Saturday, September 8, from 5 p.m. to 8 p.m.
"The Pop Art movement transformed imagery from mass media, comic books, and popular culture into iconic visual expressions," exhibition organizrs said.
"The exhibition, which merges art that reflects and comments on popular culture from the 1960s to the present, also includes works by contemporary artists who have elaborated on the traditions established by the Pop artists."
The exhibition is running in conjunction with "Pop! 50 Years of Art and Popular Culture from the Frederick R. Weisman Art Foundation," an exhibition at the Frederick R. Weisman Museum of Art on the Pepperdine University Malibu Campus.
That exhibit runs from this Tuesday through December 2, with a reception on Sunday, September 9, from 2 p.m. to 4 p.m.
Exhibition artists include Arman, Robert Arneson, Brian Bress, Les Christensen, Jim Dine, Eva & Adele, Skylar Fein, Red Grooms, Keith Haring and L.A. II (Angel Ortiz), Jenny Holzer, Allen Jones, L.A. ll, Roy Lichtenstein, Srdjan Loncar, Joel Morrison, Nam June Paik, Mel Ramos, James Rosenquist, Paul Rusconi, Tony Tasset, Banks Violette, Tom Wesselmann, Edward Wicklander and Yoram Wolberger.
Hours for SMC's Pete & Susan Barrett Art Gallery are noon to 5 p.m. Tuesday through Friday and 11 a.m. to 4 p.m. Saturday. All exhibits, gallery talks, and opening receptions are free.
For more information, call 310-434-3434.