By Lookout Staff
August 27, 2018 -- A two-seat adaptation of the Quickie Aircraft conceived by iconic aircraft designer Burt Rutan will be on display at Santa Monica Airport's Museum of Flying starting Sunday.
Designed by the Quickie Aircraft Corporation in 1980 as a "kit production" aircraft, the "Quickie II" sold more than 2,000 units.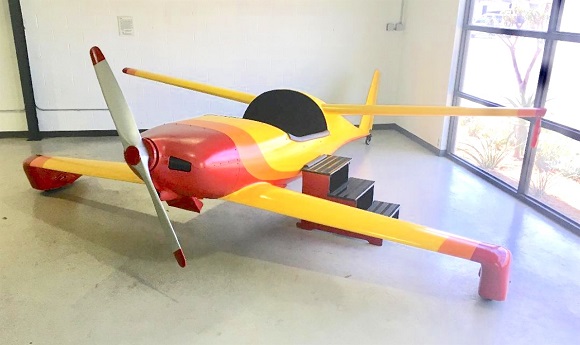 Restored Quickie II aircraft (Courtesy Museum of Flying)
The aircraft on exhibit was recently restored by Museum of Flying restoration volunteers, exhibit organizers said.
The restoration included "installing an entirely new instrument panel, repairing corrosion and airframe fortification, and finishing the project with a fresh paint scheme," organizers said.
Visitors to the exhibit can climb into the open cockpit and have their pictures taken in the Rutan inspired aircraft.
Rutan would go on to design the Voyager, which in 1986 became the first plane to fly around the world without stopping or refueling.
The Museum of Flying, 3100 Airport Avenue, is currently on a summer schedule and is open to the public Wednesday through Sunday 10 a.m. to 5 p.m.

After Labor Day the Museum is open Friday through Sunday from 10 a.m. to 5 p.m.
Admission to the Museum is $10 for adults, $8 for seniors and students, and $6 for children aged 3 to 12. Children under 3 are admitted free of charge.
For more information visit MuseumofFlying.org