By Lookout Staff
August 23, 2018 -- Fifty years ago, amid the upheavals of the late-sixties, scientists and astronauts worked in a technological bubble preparing for a historic event that now seems inevitable.
By the following summer, a man would walk on the moon, the first human to step on a celestial body other than Earth.
Next month Santa Monica College John Drescher Planetarium will take a look at the preparations that led to the Apollo 11 mission with the show "Late 1968: Prelude to Tranquility" on September 7 and 28.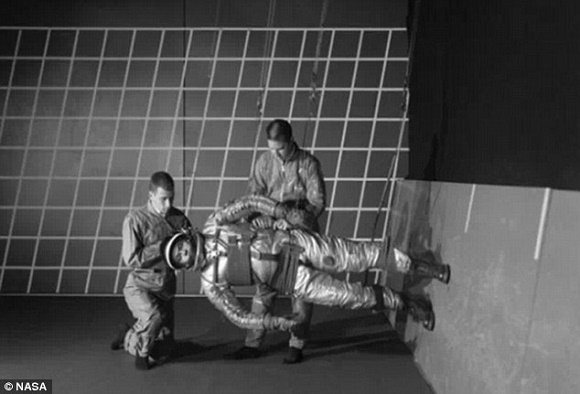 The Lunar Orbit and Let-Down Approach Simulator used to prepare astronauts (Courtesy NASA)
"The personnel of the Apollo program stood poised to produce the visible string of missions that would culminate in the triumphant landing of Apollo 11 on the Moon the following summer," event organizers said.
"But 50 years ago, none of this seemed inevitable."
The show kicks off the fall 2018 feature shows and special telescope-viewing sessions that run through December 14.
Next month's schedule continues September 14 with the special observing event "Crescent Moon and Saturn!" which provide "a look through various telescopes at a 5-day-old crescent Moon and the always amazing ringed wonders of Saturn."
"Viewers will also give Mars -- six weeks after its closest approach -- a quick look, and check out a few other targets."
If clouds intervene, the program will stay in the planetarium with high-resolution images, organizers said.
On September 21, the Planetarium presents the show "TILT! Equinoxes and Solstices Explained" using the Digistar planetarium projector and other imagery.
"Most city dwellers are only vaguely aware of what the equinoxes and solstices actually are," organizers said. The show will "try to remedy this disconnect from the natural world -- and dispel some myths.
"Like that egg story. . ."
The feature shows and a telescope viewing session take place at 8 p.m. and are preceded at 7 p.m. by "The Night Sky Show," which offers "the latest news in astronomy and space exploration, a family-friendly 'tour' of the constellations and answers to astronomy-related questions.
The John Drescher Planetarium, which features a Digistar projection system, is located near the elevators on the second floor of Drescher Hall, 1900 Pico Boulevard.
Tickets are available at the door and cost $11 ($9 seniors and children) for the evening's scheduled "double bill," or $6 ($5 seniors age 60 and older and children age 12 and under) for a single show or telescope-viewing session.
For more information call (310) 434-3005 or visit www.smc.edu/planetarium. All shows are subject to change or cancellation without notice.
Captions:
NASA also developed the Lunar Orbit and Let-Down Approach Simulator, similar to LEMS, pictured, to prepare astronauts
Astronauts were suspended from the Lunar Excursion Module Simulator (LEMS), pictured, at the Lunar Landing Research Facility in the U.S.