By Niki Cervantes
Staff Writer
September 26, 2017 -- Two of the largest projects in Santa Monica's development pipeline will face referendums to stop them if the City Council ultimately approves versions approximating the nearly 1 million total square feet being proposed, a leader from the slow-growth movement said Monday.
"The Plaza at Santa Monica," a nearly 360,000-square-foot hotel/mixed use development proposed on prime City-owned real estate, and the proposed expansion and renovation of the Miramar Hotel, which when last proposed totaled nearly 570,000 square feet, will spark a battle if approved by the council, said Armen Melkonians, the organizer of the slow-growth group Residocracy.
"Those are the two (developments) in our sights," Melkonians said. "There are voices against those projects.
"We're still here, alive and well," he added. "There are more battles to be fought. There will be referendums against" the Plaza and Miramar.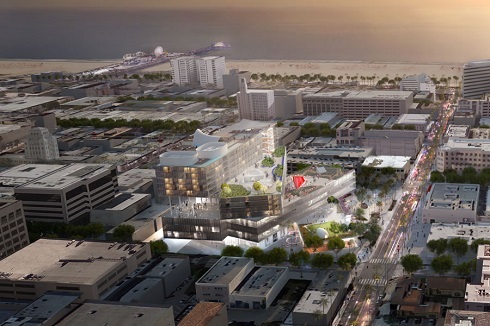 Rendering of arial view of the "Plaza at Santa Monica" (Image courtesy of Metropolitan Pacific Real Estate Group)
Proponents of development Downtown say Melkonians is jumping the gun and judging projects that have a long and arduous road before being approved.
The latest proposal for "The Plaza," at 4th/5th and Arizona, is under review, while a final version of the proposal for the Miramar on Ocean Avenue and Wilshire Boulevard has not yet been submitted to the City. No final council votes are scheduled.
Judy Abdo, a former mayor and representative of Santa Monica Forward, which advocates transit-oriented development, said she has faith the council will reflect the will of the voters.
"Santa Monica residents have faith in our system of representative democracy because it works," Abdo said. "Thousands of Santa Monica residents agree that our city needs to welcome new people and provide housing and job opportunities for people of all incomes and ethnicities."
Both the Miramar and Plaza developments received an initial nod this summer when the council voted to include the two sites in an exclusive "overlay" for bigger and taller structures downtown ("Santa Monica Council Sets Highest Affordable Housing Requirement in State for Downtown," July 27, 2017).
Frank Gehry's 338,695-square-foot "Ocean Avenue Project, another hotel/mixed use development, is also included in the overlay, which was created as part of the Downtown Community Plan (DCP).
The threat of using a referendum against "The Plaza" and Miramar has special weight coming from Residocracy.
In 2014, Residocracy -- then a fledgling online-based group started by Melkonians -- gained noticeable political clout with a whirlwind signature campaign to stop construction of a 765,000-square-foot office, residential and retail development near a then-coming Expo Line rail stop near Bergamot Station.
In a major victory for the group, the council subsequently rescinded its approval of the Bergamot Transit Village project, rather than face the coming referendum ("Slow Growth Advocates Claim Victory in Battle Over Controversial Santa Monica Development," May 15, 2014).
Residocracy's next attempt to slow development, Measure LV, failed at the polls last November by a 56 percent to 44 percent vote ("Santa Monica Council Incumbents Sweep, LV Loses Big," November 9, 2016).
Opponents raised about $1.2 million to stop the measure, which would have required most projects taller than 32 feet to win voter approval ("More Than $1.2 Million Spent to Defeat Santa Monica's LUVE Measure," February 6, 2017).
Melkonians said he does not consider the LV vote a defeat.
"Given how much they (opponents) raised and that the odds were stacked against us, I consider LV a success," he said. "It was substantial. The council knows now that 45 percent of people out there were concerned."
So far, the council has viewed "The Plaza" favorably. The proposed project on nearly three acres is anchored by a 280-room hotel, although it earmarks 12 percent of its footage for 48 "affordable" apartments -- a key selling point for the council.
It also includes office space (significantly reduced from an earlier version) and cultural amenities ("Plaza at Santa Monica' Project Scaled Back," February 8, 2017).
Dale Goldsmith, a land-use attorney for Armbruster Goldsmith & Delvac who is working with the developers of "The Plaza," said the project still has a long road to traverse before it goes to the public hearing phase.
At this point, a draft environmental impact report for it (required under California law) is being put together and, before going to the council, will include a 45-day comment period.

After that period, he said, all concerns raised are to be addressed and sent to the council for action.
"We are looking forward to working with the public on a great project," he said.
Dave Rand, also a land-use attorney with the same firm, said major projects like "The Plaza" and the Miramar involve "a very deliberative process" in Santa Monica.
As part of it, he said, opponents "will have a more than ample opportunity to be part of the discussion."
Rand, who is not involved with either project, said the referendum process interferes with the responsibility conferred on elected officials to decide land-use issues.
"Santa Monica has a very intelligent electorate," Rand said. "I favor all democratically elected leaders being allowed to do their job."