By Jorge Casuso
October 25, 2017 -- Victor Sjöström's 1921 silent horror film "The Phantom Carriage" has had a profound impact on movies, inspiring classic scenes and characters in such films as "The Shining" and "The Seventh Seal."
The film, known for the black clad hooded figure of death Ingmar Bergman would popularize in his 1957 masterpiece "The Seventh Seal," will be screened in Santa Monica Thursday evening accompanied by a live musical score by the Jack Curtis Dubowsky Ensemble.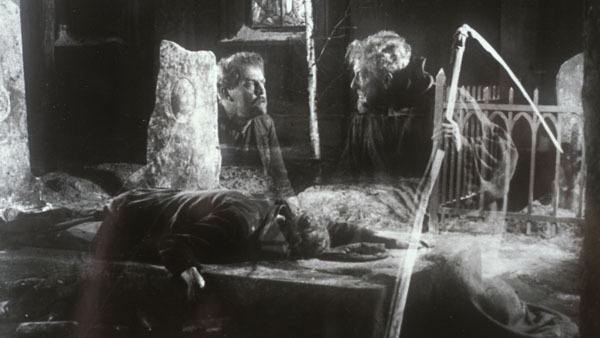 The image of Death in Victor Sjöström's "The Phantom Carriage"
The free screening takes place at 7 p.m. in the Martin Luther King, Jr. Auditorium at Santa Monica's Main Library, 601 Santa Monica Boulevard.
Sjöström, considered the father of Swedish cinema, based his 89-minute film on the legend that a person who dies at midnight becomes the coachman who picks up souls for Death until a replacement takes the reins after a midnight death the following year.
Sjöström would be recruited by Louis B. Mayer to Hollywood, where he would direct such stars as Greta Garbo, John Gilbert, Lillian Gish and Lon Chaney. His MGM film "The Wind," starring Gish, is considered a silent movie classic.

Three years before his death in 1960, Sjöström would star as the world weary professor in Bergman's other 1957 masterpiece "Wild Strawberries.
"The Phantom Carriage" would not only have a profound effect on Bergman, but it may have inspired Stanley Kubrick's famous axe scene in his 1980 horror film "The Shining" where Jack Nicholson frantically breaks through a wooden door.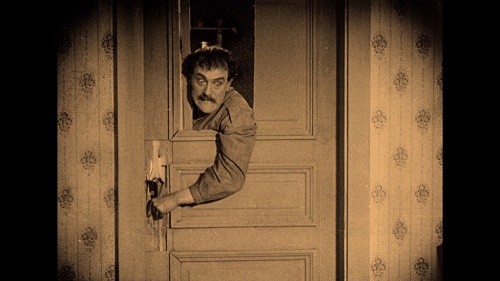 Scene that prefigures famous axe scene in "The Shining"
The similarities have spurred shot-by-shot comparisons on several film web sites.
The Jack Curtis Dubowsky Ensemble has been performing live music scores for films since 2008, starting with shorter experimental films and graduating to such feature films as "The Phantom Carriage" and the "The Golem," a 1920 German silent horror film.
The ensemble recently released the album "Zorro," which is based on music composed for the live score to the 1920 silent film "The Mark of Zorro" starring Douglas Fairbanks.
The Main Library is served by Big Blue Bus routes 1, 7, R7, R10 and 18 and provides bicycle parking racks.
For more information, visit smpl.org or contact the Santa Monica Public Library at (310) 458-8600.