By Niki Cervantes
Staff Writer
October 20, 2017 -- From a turn-of-the-century home gazing at the Pacific from Palisades Park to one of the first Postmodern high-tech designs in Santa Monica, four local landmarks are likely to get preservation contracts with the City.
Staff is recommending the City negotiate "Historic Property Preservation Agreements" (of Mills Act contracts) with the property owners of 401 Ocean Avenue, 927 Ocean Avenue, 909-911 Montana Avenue and 2433 28th Street.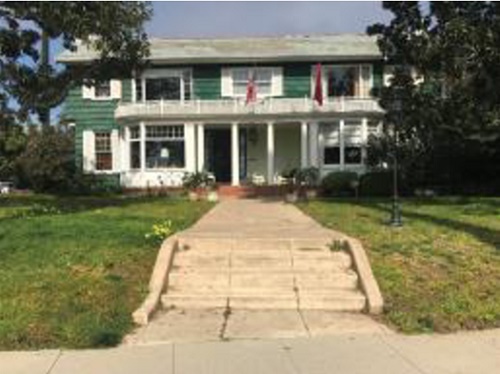 401 Ocean Avenue (Photos courtesy City of Santa Monnica)
All are designated City Landmarks and are qualified for the cut in property taxes the Mills Act provides, a report to the City Council said.
"The Mills Act is one of the few financial incentives available to owners of historic properties," said David Martin, the City's director of planning.
Under consideration for the contracts is the two-story, Henry Weyse/Charles Morris House at 401 Ocean Avenue, built in 1910 and designated a City Landmark in 1990.
An example of the work of highly-regarded architect Robert D. Farquhar, the home "embodies distinguishing Craftsman and Colonial Revival architectural characteristics," the report said.
But it needs repair, restoration/rehabilitation and maintenance work.

The building's exterior wood shingle siding, fascia and trim is in poor condition and will be replaced. Also slated to be replaced are the asphalt shingle roof and the deteriorated wood rails on the upper front porch and rear deck areas.
A 10-year Restoration and Rehabilitation Plan and Maintenance Plan could cost $935,000 over its life. A Mills contract could help with a tax cut equaling 86 percent, staff said.
| | |
| --- | --- |
| | Meanwhile, the three-story apartment building at 927 Ocean under consideration for a Mills contract was designated a City Landmark in June. It embodies the apartment/hotels of 1920s Santa Monica, the report said. |
Although in fair condition, the building's roof and drainage system are in poor condition.
"Original wood windows will be repaired while existing jalousie and aluminum sliding windows will be replaced with wood windows to match the original. The balconette on the front elevation will be structurally evaluated and repaired or replaced as needed," Martin said.
Total cost over the 10 years will be $661,100, but staff said the new contract would bring a 55 percent cut in total taxes.
The two-story residential and commercial courtyard apartment building at 909-911 Montana Avenue is a relic of early multi-family residential and commercial development in the Wilshire Montana and North of Montana neighborhoods and "a unique example of a low-scale 1940s courtyard apartment with a commercial building," he said.

909-911 Montana Avenue
It was built in 1941 and is regarded as being in Hybrid Streamline Modern/Spanish Colonial Revival style of architecture.
Projected cost of rehab/restoration work over the coming decade is $557,500. A Mills contract could result in a 71 percent tax break, staff said.
2433 28th Street

Also being considered for a Mills contract is the Sun Tech Townhomes at 2433 28th Street, a complex of 18 condominiums in four three-story buildings.

It is regarded as "one of the first and a rare example of Postmodern high-tech design in Santa Monica," the report said.