By Lookout Staff
October 5, 2017 -- Seven members of the Santa Monica College (SMC) debate team took home individual awards at the Pacific Southwest Collegiate Forensics Association (PSCFA) "Warm Up" Tournament last weekend.
More than 140 students from 13 Southern California public and private two- and four-year institutions in took part in the competition held at El Camino College September 30 to October 1.
Fourteen SMC students competed in the International Public Debate Association (IPDA) debate, in which each competitor engages in four rounds of one-on-one debate, with only 30 minutes to prepare before each round.
Santa Monica students took three "Superior" and Four "Excellent" Awards, prompting college officials to declare the competition "a great start for the 2017-18 tournament season."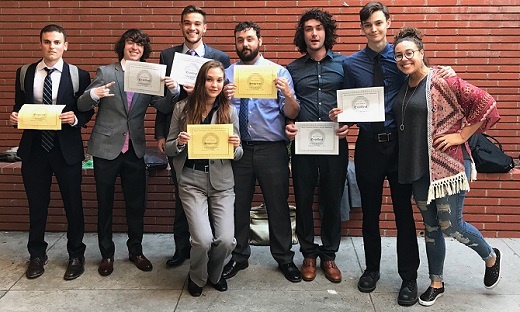 (From left) Kyle Lee, Gray Levine, Nicholas Graves, Baylynne Brunetti, Ben Kolodny, Andrew Monaco, and Ethan Bass, accompanied by debate coach SMC Communication Professor Brianna Broady (Courtesy Santa Monica Collge)
"Every Fall we start fresh, with many new team members who need training and who are hoping to succeed in competition," said SMC Communication Professor Nate Brown, who coaches the team along with SMC Communication professors Luis Andrade and Brianna Broady.
"Last year was our most successful year ever, which was only slightly better than the year before that," Brown said. "If this first tournament of our 2017-2018 year is any indication, we could be looking at another record-breaking year."
SMC team captain Ben Kolodny, Baylynne Brunetti and new debate team member Kyle Lee each received a "Superior" award for winning all four of their rounds, college officials said.
The accomplishment is "unusual for even the best debaters," officials said.
In addition, Andrew Monaco and new team members Gray Levine, Ethan Bass and Nicholas Graves each won an "Excellent" award for winning three of their four rounds.
"The tournament was a great experience," said Kolodny. "We got to talk about some really important issues, hone our communication skills, and prepare for fierce competition on the road to the national championship.
"The best part of being on the team though, is the community," Kolodny said. "We're really close, and the great performances we saw on Saturday would've been impossible without help from our friends."
The SMC team's presence at the competition was sponsored by the Associated Students of Santa Monica College.
For more information on the SMC Speech and Debate Team, contact Professor Brianna Broady at broady_brianna@smc.edu.