By Niki Cervantes
Staff Writer
November 28, 2017 -- After 35 years underground, Santa Monica-based KCRW radio -- quirky, thought-provoking and quintessentially Southern California -- is ready to move up in the world, literally, figuratively and financially.
The award-winning National Public Radio station, licensed to Santa Monica College, is at last leaving its cramped basement quarters at SMC's Cayton Center on the main campus.
Its destination is a new three-story, 35,000-square-foot state-of-the-art center at 1660 Stewart Street, a key feature of the larger $115 million SMC Center for Media and Design project.
The center also includes a renovated 50,000-square-foot instructional Design Wing and a seven-level parking structure equipped with electrical vehicle charging stations.
KCRW's move begins with the New Year, officials said, and the station begins transmitting in late Spring 2018.
In the meantime, KCRW is offering a sneak preview/unveiling of SMC's Center for Media and Design on Saturday, December 2, at the new campus.
"KCRW steps boldly into the light 'above ground' to move into its new home at the SMC Center for Media and Design," said Dr. Kathryn E. Jeffery, Santa Monica College Superintendent and President.
"We look forward to KCRW being an active part of creating a vibrant learning environment with hands-on experience for students passionate about journalism, new media, and radio in this new state-of-the-art facility."
Media Center Interior
In addition to moving to higher ground, KCRW 89.9 FM is adding significant new space allowing it, for the first time, to host community gatherings via a new 1,400 square-foot Annenberg Performance Studio.
KCRW also can program events on the 3.5-acre campus for as many as 1,500 people in the new 18,000-square-foot courtyard and an outdoor stage in the center of the complex, officials said. The KCRW Media Center also allows for a future of growth, Jeffery said.
The station is also looking forward to the KCRW Center's environmentally conscious building, and a lot of natural light and fresh air, its website says.
"KCRW is all about creating a vibrant community around exceptional content," said KCRW President Jennifer Ferro. "We could not be more thrilled to see this physical manifestation of KCRW as a cultural center for Los Angeles and beyond."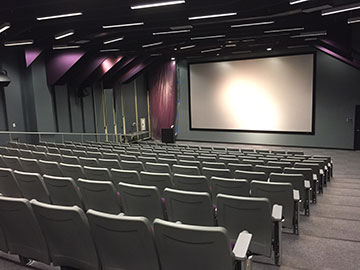 Media Center Auditorium
Officials said the station outgrew its basement location on the SMC main campus within years of moving there in 1984. It grew from 14 to 125 staff members scattered across five locations, with broadcast and editing studios on the main campus.
KCRW's new home provides three times its current studio, production, and meeting space, "ensuring KCRW's continued operation well into 21st century," its website says.
It is also situated in Santa Monica's Creative District, near the LA Metro Expo Line stop at Bergamot Station.

Primary funding for project came from Measure AA, the SMC Safety and Modernization Bond, approved by the voters of Santa Monica and Malibu in 2008.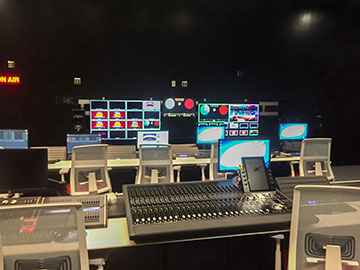 New KCRW studio
KCRW also launched a capital campaign in 2012 to raise private funds for its new center. More than 5,800 donors made contributions, said KCRW Foundation Chair Matt Kline.
"I know our community will be deeply enriched by this investment in KCRW and SMC because the creativity and learning these great institutions inspire are critically vital to Los Angeles and California's future," Kline said.
The funds from the campaign were to purchase broadcast and digital equipment for the KCRW Media Center, and to acquire new stations in Santa Barbara (88.7 FM) and San Luis Obispo (101.3 FM).
Donated support also includes more than $11 million to invest in new programming and technology to distribute KCRW's content throughout Los Angeles and around the world, Kline said.
KCRW dates back to 1945, when it was started to train servicemen returning from World War II in the then-new technology of FM broadcasting, according to a history of the station.