By Jonathan Friedman
Associate Editor

March 31, 2017 -- A new report saying Southern California could, by the year 2100, lose up to two-thirds of its beaches through erosion caused by sea-level rise has Santa Monica-based activist nonprofit Heal the Bay calling for action.

Sarah Sikich, vice president of the organization, wrote, "My heart sunk as my news feed was blasted with a double whammy of bad beach news this week."

The "double whammy" included the beach erosion report that was written by Sean Vitousek, who was with U.S. Geological Survey when the study began and now is a professor at the University of Illinois.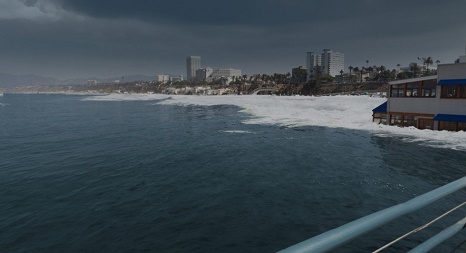 Virtual reality image from "The Owl" on the Santa Monica Pier of a storm surge after sea levels rise (Courtesy of USC Sea Grant)
"Beaches are perhaps the most iconic feature of California, and the potential for losing this identity is real," he said. "The effect of California losing its beaches is not just a matter of affecting the tourism economy.
"Losing the protecting swath of beach sand between us and the pounding surf exposes critical infrastructure, businesses and homes to damage."
Sikich also was bothered by what she described as how President Trump "declared war" against "smart climate change policies" introduced by the Obama administration.
Trump signed an executive order Tuesday that dismantles many of Obama's environmental policies, including removing climate change from considerations in the National Environmental Policy Act (NEPA) review process in order to expedite approval of energy projects.
Under the order, projects no longer would be required to account for effects of climate change -- including sea level rise, coastal erosion and storm surges -- during their lifetime.
Sikich wrote, "We cannot afford to move backwards with climate policy when now, more than ever, public health and our environment need proactive solutions to mitigate against and adapt to negative impacts related to rising temperatures."
She further wrote that there is still time to curb the effects of sea-level rise via "research, planning and management measures."
Sikich asked for people to sign a petition calling for Environmental Protection Agency (EPA) and National Oceanic and Atmospheric Administration (NOAA) money to be maintained in the next federal budget.

The petition, which calls Trump's proposed budget "debilitating" had received more than 70,000 signatures as of Friday morning.
Last summer, the City of Santa Monica installed a virtual reality device on the Pier that illustrates the impact of climate change on the region ("Santa Monica Pier Installation Provides Glimpse of Sea Level Rise," August 31, 2016).
Called "The Owl," the installation offers panoramic views of Santa Monica Beach that show how the coast and infrastructure would flood due to sea level rise coupled with a large coastal storm, officials said.