By Lookout Staff
March 20, 2017 -- A close-up view of the moons of Jupiter and the sounds of radio voices from distant galaxies will be among the other-worldly phenomenon featured in shows next month at Santa Monica College John Drescher Planetarium.
The three feature shows and a telescope viewing session will take place at 8 p.m. on Friday evenings in April. The shows are preceded at 7 p.m. by "The Night Sky Show," which offers "the latest news in astronomy and space exploration, a family-friendly 'tour' of the constellations and answers to astronomy-related questions.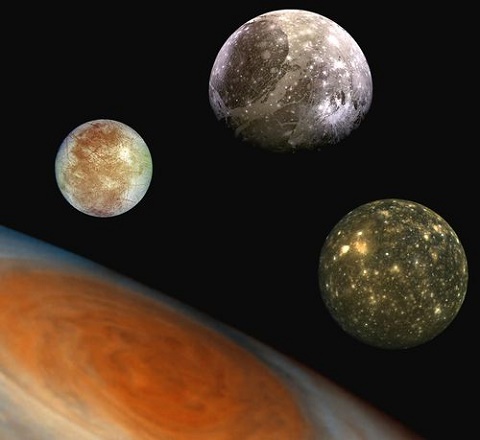 A composite image showing [L-R] the icy moons Europa, Ganymede, & Callisto. NASA. (Image courtesy of NASA/JPL)
The lineup kicks off April 7 with the show "Gibbous Moon and Jupiter in the Eyepiece!" which provides a clear view of "the 11-day-old waxing gibbous Moon, with its dramatic shadowing along the terminator," event organizers said.
"Viewers can witness "the transition from lunar night to day -– and terraced craters and fault-wrinkled ancient basaltic lava," organizers said.
The show also provides "a look at our largest planet, mighty Jupiter, and its main equatorial cloud bands and all four of its Galilean moons."
On April 14 and 21, the show "Galaxies, Galaxies, Everywhere!" offers a glimpse of "Spiral Nebulae," which Edwin Hubble determined were "star cities comparable to our own Milky Way," organizers said.

"Today, we can 'hear' the radio voices and 'see' gamma and X rays from the energetic cores of galaxies millions of light years away."
On April 28 and May 12 amateur astronomers will gather to observe the evening sky at "star parties." The "Summer Star Party Planner" offers tips on where and when to go, and what to bring to be a welcome star party visitor and participant.
The party planner provides "good opportunities for beginners to attend these events without having to deal with winter's cold and travel hazards."
The John Drescher Planetarium, which features a Digistar projection system, is located near the elevators on the second floor of Drescher Hall, 1900 Pico Boulevard.
Tickets are available at the door and cost $11 ($9 seniors and children) for the evening's scheduled "double bill," or $6 ($5 seniors age 60 and older and children age 12 and under) for a single show or telescope-viewing session.
For more information call (310) 434-3005 or visit www.smc.edu/planetarium. All shows are subject to change or cancellation without notice.