By Lookout Staff
March 1, 2016 -- Cartoonist Rube Golberg drafted contraptions that made the easiest everyday tasks such as lifting a hat or opening an umbrella insanely complex by using everything from rolling balls and rocking chairs to birds and clocks.
On Sunday, the Santa Monica Pier will host the LA regional Rube Goldberg Machine Contest, which will display an array of intricate contraptions inspired by the acclaimed early twentieth-century cartoonist.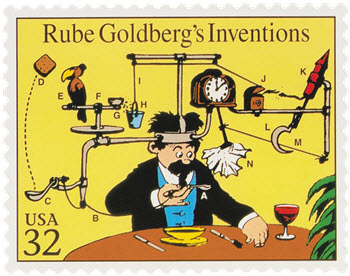 Rube Goldberg postage stamp
It's part of S.T.E.A.M. Machines, a daylong, free expo hosted by the Santa Monica Pier Corporation in partnership with Heal the Bay that is "devoted to science, technology, engineering, art, and mathematics, represented by a medley of innovative exhibitors," event organizers said.
"This is a day devoted to geeky, nerdy, hands-on fun on the Pier Deck and in Heal the Bay's Santa Monica Pier Aquarium, (think robots, circuit building, lots of creative materials for build-your own whatever projects!)," organizers wrote in an announcement for the event.
During L.A.'s regional Rube Goldberg Machine Contest, Sunday's anchor attraction, a dozen teams from middle schools, high schools and colleges will face off for the chance to compete in the national contest.
The contestants will run their "innovative, whimsical contraptions that complete the task of applying a Band-Aid through a complicated series of steps," organizers said.
The winners will be picked by panel that includes judges from the NASA's Jet Propulsion Lab (JPL) and SpaceX, according to organizers.
The day-long event includes exhibitions by JPL, the Columbia Memorial Space Center, Heal the Bay's Santa Monica Pier Aquarium, as well a host of "original, cutting edge enterprises," organizers said.
From 2 to 3:30 p.m., a panel of innovators that include Michelle Easter of JPL; Jeremy Selan of Valve virtual reality; Zaina Siyed a high school robotics champion and founder of the FemSTEM scholarship, and Brent Bushnell of Two Bit Circus, will discuss the challenges and opportunities in their fields.

Heal the Bay's Aquarium below the Pier deck will offer visitors the chance to operate an underwater ROV (remotely operated vehicle), tinker with snap circuits and robotic arms, and work with an inventive "Makey Makey" kit.
The day's events will be updated regularly at http://santamonicapier.org/steam/