By Lookout Staff
June 23, 2017 -- On August 21, the sun will disappear behind the moon, temperatures will drop and massive ribbons of lights will twist and curl across the summer sky.

And while Californians will only get a partial glimpse, the Santa Monica College John Drescher Planetarium will help enhance the eerie experience.
On July 14 and 21, the planetarium will provide a timeline of the eclipse as it will appear locally and offer possible strategies for viewing the partial eclipse and safety tips for viewing.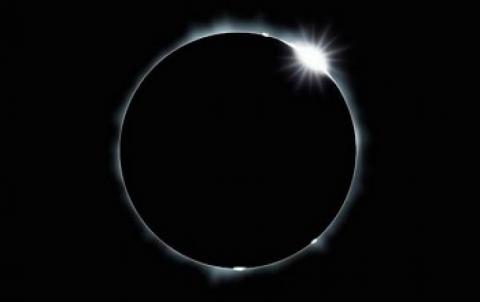 Total solar eclipse (Image courtesy of NASA)
Those who have booked spaces at hotels and campgrounds along the eclipse's direct path -- which will stretch from Salem, Oregon to Charleston, South Carolina -- will experience its first coast-to-coast total solar eclipse since 1918, a celestial wonder few will ever forget.

"It brings people to tears," Rick Fienberg, a spokesperson for the American Astronomical Society (AAS), told Space.com of the experience. "It makes people's jaw drop."
According to the website, "During totality, the area inside the moon's shadow is cloaked in twilight -- a very strange feeling to experience in the middle of the day. Just before and just after totality, observers can see this cloak of darkness moving toward them across the landscape, and then moving away."

On July 7, "Summer Deep Sky Wonders" offers viewers a chance to experience the visual wonders of the summer sky, including the birth and death of a star, countless distant galaxies and the material that gives shape to planets.
On July 28 and August 4, the planetarium presents "Cassini's Grand Finale at Saturn," which offers the latest news on the NASA mission that has been orbiting the ringed planet since 2004.
As the spacecraft "moves into its final month and a destructive dive into the cloud tops of Saturn on September 15, we'll review the latest images of Saturn -- from a risky vantage point between the rings and the planet -- and Cassini's many discoveries," organizers said.
The evening events are held on Friday evenings at 8 p.m. and are preceded by "The Night Sky Show" at 7 p.m., offering the latest news in astronomy and space exploration, a family-friendly "tour" of the constellations, and the chance to ask astronomy-related questions.
The John Drescher Planetarium, which features a Digistar projection system, is located near the elevators on the second floor of Drescher Hall, 1900 Pico Boulevard.
Tickets are available at the door and cost $11 ($9 seniors and children) for the evening's scheduled "double bill," or $6 ($5 seniors age 60 and older and children age 12 and under) for a single show or telescope-viewing session.
For more information call (310) 434-3005 or visit www.smc.edu/planetarium. All shows are subject to change or cancellation without notice.