By Niki Cervantes
Staff Writer
June 20, 2017 -- Santa Monica's Recreation and Parks Commission is recommending a public park be created over two-thirds of the nearly three-acre site slated for a 12-story, 357,000-square-foot mixed-use project anchored by a hotel.

"This is a legacy moment for our city," said John Cyrus Smith, who chairs the commission.
"The Council has a once-in-a-lifetime opportunity to create a public park people will cherish ten and 100 years from now," he said in a letter to the Lookout News. "An opportunity that won't come again."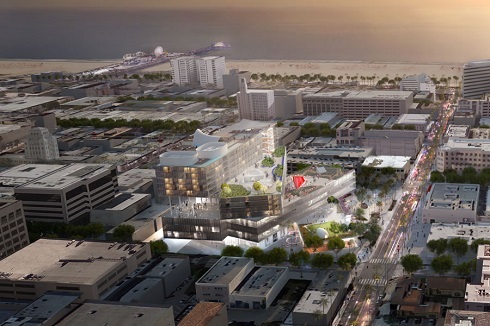 Rendering of arial view of the "Plaza at Santa Monica" (Image courtesy of Metropolitan Pacific Real Estate Group)
The commission voted unanimously last Thursday to recommend the park, joining a chorus of slow-growth activists and members of various neighborhood associations who want dedicated public park space on the 2.73-acre site at 4th/5th streets and Arizona Avenue.
Santa Monica is "park poor" compared to other communities in Los Angeles County, Smith said.
"There is also widespread support for a park on this publicly-owned site, yet the Council clearly favors the same thing any developer would propose: A 12-story hotel, retail, office, housing complex that will dwarf everything around it," Smith said.

"A big bull in our Downtown china shop. Yet 'another' hotel in a Downtown with dozens already. On public land paid for by residents. In a city without dedicated public park space Downtown."
The City -- which owns the land -- has paved the way for the "Plaza at Santa Monica" in its proposed Downtown Community Plan (DCP), a re-design of downtown that allows up to 3.2 million-square-feet of new development in coming years ("Santa Monica Downtown Plan Seeks to Strike a Compromise, Officials Say, But Some Remain Skeptical," April 13, 2017).
Most of the new development would raze 1970s-era low-slung commercial buildings with attached surface parking lots to make way for a high-rise, since downtown is mostly built out.
The Plaza at Santa Monica is the second-largest project under the proposed Downtown Plan. It is also part of a trio of hotel-based developments clustered downtown which would be among the largest developments in the beach city, each potentially reaching 130 feet in height.
If built, the projects would total 1,264,635-square-feet in new building downtown. They include the redevelopment of the Miramar Hotel and a new 338,695-square-foot hotel designed by Frank Gehry, both of them along Ocean Avenue.
The Plaza earmarks 12 percent of the project, or 42,000-square feet, for 48 "affordable" apartments -- a key selling point for the City Council as it tries to live up to a 1990 mandate that 30 percent of new housing be earmarked for low-income earners.
But the project's major component -- and biggest revenue stream -- is a 154,000-square-foot 280-room hotel.
Recently scaled back under council direction, the current version of "The Plaza" slashes office space by half to 106,800 square feet. It also has 12,000-square feet for a "cultural amenity" and 43,000-square feet of space for ground-level retail ("Plaza at Santa Monica' Project Scaled Back," February 8, 2017).
Open space is provided by a 17,800-square-foot "Grand Public Plaza", a smaller plaza at 5th and Arizona, two ground level pocket parks and an 11,000-square-foot second level public park.
An additional 39,100 square feet in unenclosed elevated exterior decks will be available for the visiting public, hotel guests, and tenants of the building.

"The Plaza" has strong support from the local Hotel Employees and Restaurant Employees Union (UNITE HERE Local 11), as well as the local business community, which says the project would bring added jobs and provide some relief from the critical shortage of low-income housing.
It also would pump money into City coffers at a time when its bounty of other revenue is slowing and deficits loom ("Battle Pits Slow-Growth Residents Against Big Hotels Slated for Downtown Santa Monica," April 25, 2017).
Critics have been fighting more development Downtown, contending it adds more density and traffic to an already congested central core and will block the city's famous sunlight and cool Pacific breeze. They believe "The Plaza" should be a park instead.
"There can be no 'Community' in the Downtown Community Plan without a public park in the heart of our city," said Smith, who made an unsuccessful bid for Council in 2012. "There is not even one acre (in the Downtown Plan) dedicated to ground-level public park space. Not one.
"Other cities great and small have public parks at their cores," Smith said. "Santa Monica should have one, too, and the City Council should make certain it does when it votes on the DCP next month."
Santa Monica is recognized as "park-poor", with 1.4 park acres per 1,000 residents, less than virtually every coastal city, Smith said. Los Angeles County has 3.4 park acres per 1,000.