By Niki Cervantes
Staff Writer
July 27, 2017 -- The Santa Monica City Council on Tuesday narrowly voted to require up to 30 percent of all new multi-family housing downtown be designated affordable, likely the highest threshold of its kind in California.
The 4-3 vote came after hours of warnings from developers who said they would be unable to shoulder the cost of more affordable units, and renters, who said the council must address the critical shortage of housing for lower-income earners.
City officials acknowledged they were in uncharted waters.
"Frankly, we are the pushing the envelope," said City Manager Rick Cole.
But Mayor Ted Winterer said it was best to aim high, and then determine if the City needed to scale back.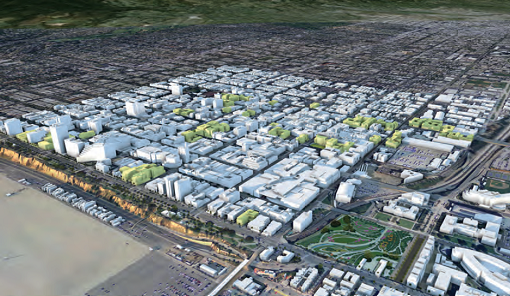 3-D Model view of Downtown in 2030. Click here for animaton. (Courtesy City of Santa Monica)
Eliminating the requirement for parking, adding housing incentives and making the approval process faster would encourage developers to meet the stiffer affordable housing mandate, he said.
"Let's give everybody a chance to see how it works," Winterer said.
City staff and an independent consultant working with the City on the issue said no other local government in the state requires as much affordable housing from developers seeking approval of private and otherwise market-rate apartment projects.
Affordable housing in the final DCP increases with the height of the apartment complexes, starting with a 20 percent requirement on site for buildings up to 50 feet in height, or 25 percent if the developer opts to build the units off site.
The mandate increases incrementally until it reaches 30 percent on site for buildings of 70 feet to 84 feet in height, or 35 percent off site.
The threshold would apply to all residential projects with 10 or more units requiring special approval from the city because their size is beyond current zoning codes.
Tuesday vote came as Santa Monica's council gave final approval to the Downtown Community Plan (DCP), a sweeping but divisive re-molding which allows 3.2 million square feet in new development, much of it five-to-seven story apartment/mixed use buildings on property previously occupied by older one or two-story buildings.
In all, the plan paves the way for a more populous downtown that is taller -- since it is already essentially built out -- and tries to ward off more gridlock by placing development near public transit and convincing the public to switch from cars to alternative modes of transportation.
Most of the fighting during the six years of the DCP's evolution has centered on three proposed hotel/mixed-use projects that under the approved plan can reach heights of up to 130 feet, instead of 84-foot height limit now in place, and total approximately 1.26 million square feet.
But Tuesday night was almost exclusively about a last-minute proposal to increase the amount of affordable housing in the DCP, which foresees 2,500 new multi-family units built through 2030.
The DCP's original goal was 15 percent to 20 percent. In its July 11 meeting, council members asked for a study of the impact of raising the range to 30 percent, depending on the size of projects.
Former mayor Denny Zane urged the council to stand by the higher affordable housing mandate.
"If you don't have strong (affordable housing) inclusion, the market-rate housing will be pernicious," he said.
Developers adamantly disagreed.
"You start pushing us over the edge," said Andrew Sobel, who is involved with developments at 1437 7th Street and 525 Colorado Avenue.
Some members of the development community were so irate they said the DCP would no longer qualify as a "housing plan" -- the City's way of characterizing it -- at all.
"The economics do not work," said Dave Rand, an attorney who specializes in land use law and governmental regulation at L.A.-based Armbruster, Goldsmith and Delvac.
A 30 percent requirement tells developers "Do not come here," he told the council. "Do not build here. 30 percent of nothing is nothing."
One speaker lauded the council's attempt to help the growing population of renters -- from the extremely low income to the middle class -- who can't afford to live in expensive Southern California, and especially in sought-after Santa Monica.
But the 30 percent mandate over reaches, the speaker told the council.
"It's the impossible dream," she said.
A study by consultants for the DCP -- hastily conducted in the wake of the July 11 meeting -- had offered results alarming to developers.
HR & A Advisors Inc. found "all the prototypes to be financially feasible as a technical matter," for on-site housing requirements, but also said many nonetheless "produced only 'marginal' returns."
For affordable housing off site, the report found requirements of 25 percent and 30 percent for developments of 50 feet and 60 feet, respectively, were not financially feasible for developers.
Only the 35 percent option for the 84-foot height category made the cut as at least marginally feasible, the study found.
Although the findings were questioned, HR & A partner Paul Silvern said the report's analysis was as accurate as possible.
Voting to increase the amount of affordable housing were mayor Winterer and council members Sue Himmelrich, Kevin McKeown and Tony Vazquez.
Voting in opposition were colleagues Gleam Davis, Terry O'Day and Pam O'Connor.
Davis unsuccessfully attempted to phase in the higher affordable housing requirement, and said she didn't want Santa Monica to end up like San Francisco, with a requirement that looked to dramatically slow housing development.
"I'm a fan of being bold where we can be," she said.
But in this case, she said, "the risk is not seeing housing built. I don't want to be in that position."
Of the total 2,500 new units envisioned by the DCP, 906 multi-family dwellings are exempted, City officials said.
Those are in pending projects with applications filed prior to November 16, 2016, the City said. They are subject to the previous 20 percent affordable housing requirement.
A monitoring report on housing production will be provided to the City Council every six months.
Voters in Santa Monica passed a measure in 1990 (Proposition R) which earmarked 30 percent of all multifamily housing completed each fiscal year in the city be reserved as affordable to low- and moderate-income households. At least half is reserved just for low-income households.
However, City spokesperson Constance Farrell said Prop R "is a target and it is cumulative across the city. The DCP is a requirement and on a project basis."
Other municipalities with liberal leanings, like West Hollywood, Pasadena and Santa Barbara, require between 15 percent and 20 percent of units in private housing developments be restricted to those with lower incomes, City officials said.
San Francisco started out as the exception to the rule, then turned into a cautionary tale for Santa Monica officials.
In June of 2016, voters there passed Prop. C, an initiative calling for 25 percent of new housing to be set aside for low-income residents, up from the previous requirement of 12 percent.
But it also called for a county-led feasibility study, which subsequently suggested 25 percent might be too high, as developers there had argued. Now, San Francisco's affordable housing requirement is at 18 percent.
In the City of Los Angeles, voters in November approved a ballot measure requiring developers to designate from 11 percent to 25 percent of new rental units as affordable housing.
In addition to setting new affordable housing thresholds, Santa Monica's new Downtown Plan abolishes parking minimums in the hopes of encouraging alternate modes of transit and seeks to attract new cultural institutions, such as a museum.
The approved plan does not include a central park, as the city's slow-growth movement sought. Instead, it relies mostly on plazas, parklets and courtyards for public space,

The plan also anticipates a future "Gateway Master Plan" to evaluate decking over the 10 Freeway to add more green space, eliminate freeway-exiting traffic bottlenecks and encourage parking away from the Downtown core.
The next steps are to begin work on implementing the DCP. The adopted Plan includes a series of actions which roll out over the next few years.
These include improvements for pedestrians and bicyclists -- two populations the City hopes to grow by making often-congested streets safer to travel.