By Lookout Staff
July 7, 2017 -- It still looks more like a parking lot than a park, but the former lot used for aircraft tie-downs marks the latest concrete step in the transformation of Santa Monica Airport.
The six-acre parcel opened July 1 as an "interim open space" that will accommodate a wide range of un-programmed recreational uses pending construction of the 12-acre Airport Park Expansion.
The space -- which is paved and fringed with a row of trees -- is now open from sunrise to sunset for activities that include eveything from biking and jogging to family gatherings and civic festivals.
Drones, model airplanes and kites would not be allowed in the area, according to a City staff report issued when the council designated the space for recreational use in January ("Recreational Space Next to Santa Monica Airport Opening Soon," January 13, 2017).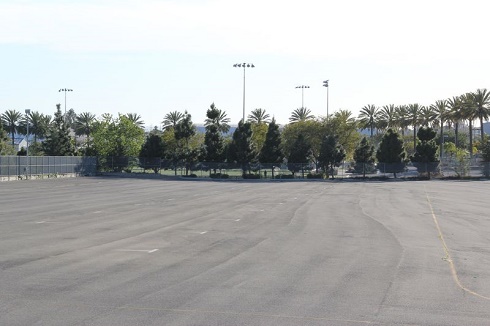 New six-acre recreational space at Santa Monica Airport (Photo courtesy of Santa Monica Airport2Park Foundation)
Airport2Park the non-profit group that pushed for the interim open space, called the opening "an important step in Airport2Park's ongoing efforts to build a Great Park at the Santa Monica Airport site."
"These are six much-needed acres of new open space," said Neil Carrey, president of the Santa Monica Airport2Park Foundation. "They demonstrate how quickly we can repurpose land that was previously restricted for aviation use only."
The 6-acre space is an initial step in what Foundation officials envision as the complete transformation of the century old airport into a major urban park.
In September, the City Council took a step in that directed when it voted to expand Airport Park to include 12 additional acres, quadrupling the size of now 4-acre park adjacent to the 227-acre airport ("Santa Monica Airport Park Expansion Moving Forward," September 27, 2016).
The conceptual design approved by the council focuses "on adding amenities, including needed additional playfields, in the context of a much larger and more varied mix of active and natural park uses anticipated with the future closure of Santa Monica Airport," according to the City staff report.
The new six-acre space set aside for recreational use is part of a growing international trend to repurpose former airport land, according to Airport2Park officials.
"The opening of former airport tarmac for public use has gained popularity worldwide in recent years as former airports such as Berlin Tempelhof Airport have closed and opened up their runways to un-programmed public use with great success."