By Jorge Casuso
August 25, 2016 -- A former Minnesota street artist who turned from paint to yarn has been chosen to launch Monday's debut of ROAM Santa Monica, a new revolving outdoor art series downtown, officials announced this week.
Created by HOTTEA (a.k.a Eric Reiger) the "colorful, immersive installation" is comprised of a "series of suspended, fluttering artworks" that will be showcased at Triangle Square and on the Third Street Promenade, City and Downtown officials said.
Visitors entering the Promenade at Wilshire Boulevard or at Triangle Square on Colorado Avenue "will be greeted with rotating artworks that surprise and delight" on each block of the popular commercial strip, officials said.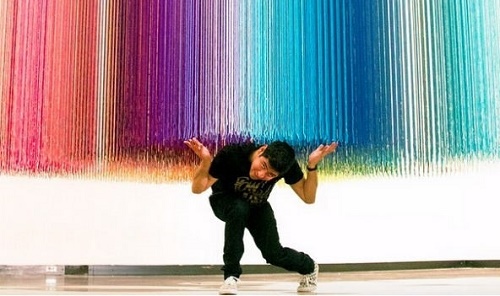 HOTTEA with Yarn installation (Photo Courtesy City of Santa Monica)
"This ambitious public art series creates the opportunity for residents and visitors to experience Downtown Santa Monica in new ways," said Shannon Daut, the City of Santa Monica's Cultural Affairs Manager.
An Emmy award-winning artist, HOTTEA switched from painted graffiti to "yarn bombing" after a run-in with the law in his native Minneapolis.
After graduating from art school he began to use the weaving techniques his grandmother had taught him on fences in the Minneapolis area, according to profiles of the artist.
As a freelance artist, HOTTEA's clients have included homeowners as well as major corporations such as Google and Viacom, officials said.
His works have been displayed at the Sydney Opera House; the beach of Barcelo Resort in Mexico; the Artmossphere Biennale in Moscow; the MADE festival in Sao Paulo, Brazil, and NY Fashion Week.
"By being able to research and install in everyday spaces one would not typically see art installations the artist has gained knowledge of how people interact with art on a broader scale," City officials said.
HOTTEA's installations will be on view from August 28 through November 1.

After a brief departure for the holiday season, ROAM will continue to unfold for the next nine to 12 months.
The project was launched after Downtown officials approached the City with the idea of a rotating public art series that would help "create environments that foster positive social interactions and enliven public spaces," said Kathleen Rawson, CEO of DTSM, Inc.
"This is one of the most exciting projects we have embarked on and we are thrilled with the caliber of artists who will be sharing their work with our community," Rawson said.
Artists featured in this series, include Faile, Andrew Shoultz, Jen Stark, Ben Zamora, Brenda Monroe, Danielle Garza, Jeanine Centuori & Russell Rock, Kate Johnson, Kristen Ramirez, Nataša Stearns, Nate Frizzell and Sean Yoro.
For more information, visit ROAM SantaMonica.com.