Santa Monica College to Stage Rare Performance of Coward Play
We Love Property Management Headaches!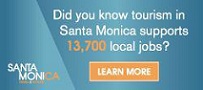 By Lookout Staff

April 10, 2017 -- When Noel Coward wrote his play "Semi-Monde" in 1926, he knew it would be censored. What he couldn't have guessed was that the play--which will see a rare staging at Santa Monica College this month--would see only a handful of productions over the next 90 years.

On April 22, students in the Santa Monica College Theatre Arts Department will join British actors from Bath Spa University to perform the "decadent and daring comedy rarely presented over the years due to its sexual themes," the play's producers announced this week.
"Semi-Monde" -- which was first produced in 1977 by the Glasgow Citizen's Theatre -- "looks into the personal lives of various upscale socialites, and offers a revealing portrait of Coward's own divided self," producers said.

Coward, who was known for the sardonic wit and flamboyance he brought to his plays, musicals and acting, wrote that "Semi-Monde," which he sought to produce in Germany, was "jagged with sophistication."
SMC's joint production is part of an exchange program with Bath Spa University in Bath, England, where the original performance of "Semi-Monde" directed by Elen Bowman was performed in February.

The upcoming restaging at SMC features Bath Spa University students and incorporates several students from SMC. The production is led by Bath Spa's Head of Field Mark Langley and assistant director Nigel Fryatt.

As part of the exchange program, SMC students will travel to Bath to perform "Quartet: 4 Short Plays by Samuel Beckett" on April 13 with a cast that includes students from Bath Spa University, SMC officials said.

The production was staged in February at Mesa Community College in Mesa, Arizona as part of the prestigious 2017 Regional Kennedy Center/American College Theater Festival ("Santa Monica College's Production of Beckett Plays Chosen for Prestigious Festival," January 20, 2017).

The performances of "Semi-Monde" will take place in the Theatre Arts Building on the main campus of Santa Monica College at 2 p.m. and 7 p.m. Seating is unreserved, limited, and strictly on a first-arrival basis.

Advance tickets are $15, plus a service charge, and can be purchased by going to www.smc.edu/studiostage or by calling (310) 434-4319 or (310) 434-3005 Monday through Friday. Parking is free.