By Lookout Staff
April 5, 2017 -- Epigenetics, coral reefs and catastrophic natural events will be the topics of Santa Monica College's ongoing Spring 2017 Distinguished Scientists Lecture Series, school officials announced this week.
The free series -- which is designed for general audiences -- takes place in Science Lecture Hall 140 on SMC's main campus at 1900 Pico Boulevard. Seating is on a first-arrival basis.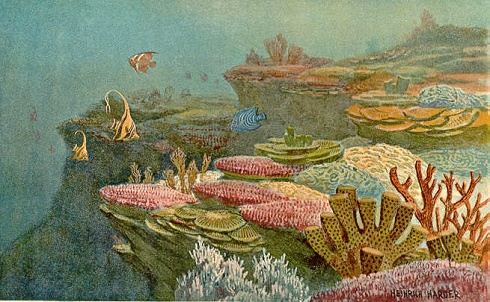 Ancient Coral Reefs by Heinrich Harder (1858-1935)
The series kicks off Tuesday, April 18, at 11: 15 a.m. with a special talk by Dr. Pamela Peeke, a Pew Foundation Scholar in Nutrition and Metabolism, who will review the latest developments in the study of healthy choices that can influence human genes.
A nationally renowned physician and an assistant professor of medicine at the University of Maryland, Peeke has focused on epigenetics, "the study of the environmental and lifestyle factors that influence whether a gene is fully or partially expressing itself, or whether it is completely silenced," event organizers said.
The talk is sponsored by the SMC Nutrition Program and SMC Life Sciences Department.
On May 2 Dr. Keisha Bahr, who recently completed her PhD in zoology at the University of Hawai'i, Manoa will present a talk titled "Reefs at Risk: How Humans Shape Coral Reefs" at 11:15 a.m.
Bahr, who currently works as a postdoctoral researcher in the Coral Reef Ecology Lab of the Hawai'i Institute of Marine Biology, has focused her work on the impact of climate change on coral reefs.
The talk is sponsored by the SMC Associates and SMC Life Sciences Department.
The series continues on Thursday, May 18, with a talk by Dr. Poppe DeBoer, a widely published expert on catastrophic events, titled "The Present is Not Always the Key to the Past" at 11:15 a.m.
An emeritus professor in sedimentology at Utrecht University, de Boer is currently focused on researching "today's developing greenhouse, tidal facies and sedimentary systems in arid environments," organizers said.
For more information, please call (310) 434-4100.