By Niki Cervantes
Staff Writer
September 21, 2016 -- Of all the sights you'd ever expect to witness off the iconic Santa Monica Pier, a mysterious giant orb aglow on nearby ocean waters probably isn't one of them.
Ditto a visually arresting array of solar towers, or any number of the other futuristic-looking projects that combine public art with energy renewal in the 2016 Land Art Generator Initiative, which this year is using the Pier as its test subject.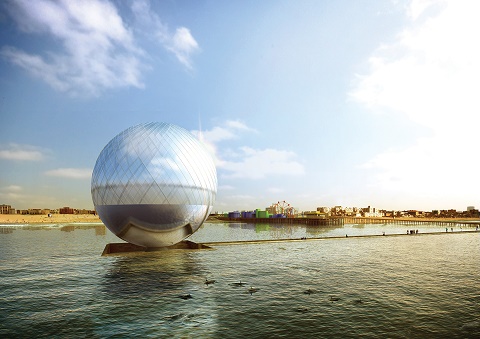 Clear Orb (Photos courtesy of 2016 Land Art Generator Initiative)
The winners of the international competition are to be announced October 6 at the Los Angeles Convention Center.
The proposals, or "land art generators" are developed by teams of artists, scientists and engineers as public works of art that also capture natural energy to cleanly convert it to electricity.
All proposals are meant to create "a unique experience" for the public and even serve as tourist destinations, officials said.
No more power plants as eyesores, they said.
"Power plants, once unseen and forgotten, will become an integral part of our daily lives," the competition's website says.
"Embracing this fact, the time is now to proactively address the influence of these new machines on the built environment, and imagine a future in which clean energy technologies have been intentionally designed into well-planned cities."
Sun Towers
This year's competition focuses on projects using wave and tidal energies as well as wind, solar and other clean technologies.
The Santa Monica Pier was a natural choice, as California struggles through its fifth year of drought, competition officials said.
And as the Pier deals with record crowds, finding renewable energy is increasingly important, they noted.
"The Santa Monica Pier is currently investigating ways to drastically reduce the use of potable water on site, like the use of recycled seawater for toilet flushing, to take one example," the site said.
The Clear Orb, a project by Heerim Architects of South Korea, is purportedly capable of producing as much as half-a-million gallons of fresh water each year for California. It is a finalist.
Also on the list this year is "Sun Towers," which uses photovoltaic panels, a point absorber wave energy converter, a tidal turbine, solar distillation and reverse osmosis desalination to produce 110 million liters of drinking water.
It is the product of a team based in London, England.
The Pipe
Meanwhile, a proposal for a huge glittering pipe off the Pier (called The Pipe) combines photovoltaic panels with electromagnetic desalinization to generate 4.5 billion liters of drinking water. It is the work of a team from Vancouver, Canada.
Among the dozens of other submissions in the contest is the eye-catching "Light Drop," a huge arch crested with a large and glowing golden ball.
Using semitransparent photovoltaic panels, tidal power pumps and reverse osmosis desalination, the project from a team in Padova, Italy, would generate 3.5 billion liters of drinking water annually from solar and tidal energy.
Light Drop
Jurors in the completion this year include Santa Monica City Council Member Kevin McKeown; state Senator Ben Allen, D-Santa Monica, and chair of the California State Legislature Joint Committee on the Arts; Craig Watson, director of the California Arts Council, and Tom Ford, executive director of the Bay Foundation.
Sustainability experts, leaders in local cultural affairs and others are also on the long list of jurors.
Past locations for contest have included Dubai in 2010, New York City in 2012 and to Copenhagen in 2014.