By Niki Cervantes
Staff Writer
September 20, 2016 -- Moving from Santa Monica's backlog of proposed developments, a project to replace the now vacant site of Aaron Brothers Art and Framing on Lincoln Boulevard with a five-story mixed-use apartment complex heads to the Planning Commission on Wednesday.
Situated on a 20,905-square-foot parcel, the 50-foot-tall project at 1641-1645 Lincoln features 66 apartments anchored at ground level by commercial uses, a patio and residential lobby and is finished with a rooftop deck, according to a report on the commission's meeting agenda.
Although it requires a special development review permit (DRP), instead of a development agreement, the project is much like others proposed for Lincoln as the City re-creates the mostly single-story, heavily trafficked commercial roadway into one that is geared more to apartment dwellers and is located near major transit stops.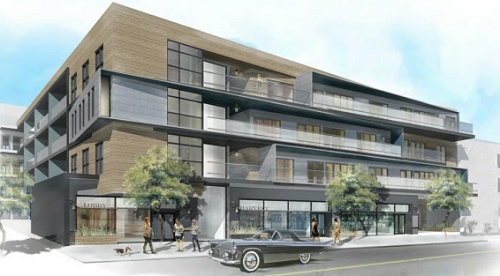 Rendering of project at 1641-1645 Lincoln
The redevelopment of a three-block stretch of Lincoln north of the I-10 Freeway is meant to help address the city's housing shortage, City officials said.
Wednesday's project fits the bill, the report said.
It "is compatible with the surrounding commercial area along the Lincoln Boulevard corridor, as evidenced in recent Development Agreement approvals for 57-foot and 60-foot high mixed-use projects on the southeast and northwest corners of Lincoln Boulevard and Colorado Avenue, respectively," City Planning Division Manager Jing Yeo wrote.
The proposed project "is of a mass and height compatible with existing and anticipated development," Yeo said.
It is about three and a half blocks east of the Expo station downtown.
Included are five "affordable" units earmarked for household incomes of 30 percent of the local annual median, the report said.
This year that amount ranges from $18,250 a year for one person to $40,890 for a household of eight persons, according to the City's website,
The design is "modern/contemporary." It would also include a three-level subterranean garage for 130 vehicle parking spaces and 117 bicycle parking spaces.
A Planning Commission vote is final but can be appealed to the City Council, the report said.
Wednesday's project comes at a politically sensitive juncture for Santa Monica.
A particularly intense development war comes to a head on November 8 with Measure LV -- a backlash over a potential surge of building that includes some major high-rise projects Downtown.
The initiative requires that most new buildings taller than 32 feet be approved by voters. That authority now rests with the City Council.
Slow-growth activists, neighborhood groups and others backing Measure LV are watching projects like the one going to planning commissioners on Wednesday, since it exceeds the proposed measure's height limits and would require a public vote.
Some are displeased that the transformation of Lincoln Boulevard is continuing, despite the ramifications.
"Lincoln Blvd is one of only a few major north/south streets that is used by residents and by communities to the north and south of us to traverse or be in Santa Monica," said Diana Gordon of the Coalition for a Livable City (SMCLC), which supports Measure LV.
She noted that the City sued more than decade ago to stop Los Angeles' massive Playa Vista development south of Santa Monica from spilling more traffic onto the city's already gridlocked Lincoln Boulevard.
The City lost, she said.
"It's a bit ironic that the City now envisions Lincoln as its Playa Vista playground, traffic be damned," Gordon said.
The developer of the new project is FSTAR, which has proposed several similar developments as part of its "Lincoln Collection." FSTAR applied for the permit on April 21, and subsequently made revisions.
The report to the planning commissioners said the Architectural Review Board (ARB) was especially pleased that the project is a "departure from the generally white and more monochromatic designs of recently approved projects nearby on Lincoln Boulevard."
A DRP is required for any project that exceeds the City's Tier 1 limits for a "mixed use boulevard" like Lincoln of three stories (39 feet) in height. Mass is also restricted.
Last October, the City Council helped spark the transformation of Lincoln by approving a 102,500-square-foot mixed-use/apartment project replacing a long-standing Denny's ("Santa Monica Council Approves Denny's Replacement Project," October 15, 2016) .
In the blueprints, two five-story structures are connected by a 40-foot-wide paseo that stretches from Lincoln to an alley behind 7th Court.
Included are 100 residential units ranging from studios to three bedrooms, 14,000 square feet of commercial space and 232 parking spaces in a three-story subterranean garage.
In that case, the project required a Development Agreement, which allows developers to exceed zoning and land use standards, while remaining consistent with local planning policies under the general plan.
Among the "community benefits" called for in the City's agreement with the developer were 20 affordable apartments, $2.3 million for various programs, including transportation, parks and recreation and affordable housing elsewhere in the city.
NMS Properties, the developer, also agreed to a marketing plan targeting potential tenants, such as Santa Monica first-responders, employees of local hospitals and healthcare providers, local school district workers and employees of nearby businesses.