By Jonathan Friedman
Associate Editor

December 5, 2016 -- A pilot project is underway to transform a three-acre portion of Santa Monica's beach near the Annenberg Community Beach House into an area where wildlife can thrive.

Currently being installed is "a low-lying, three-foot tall sand fence for protection and seeding of native beach plants," according to the nonprofit The Bay Foundation (TBF), which is conducting the project.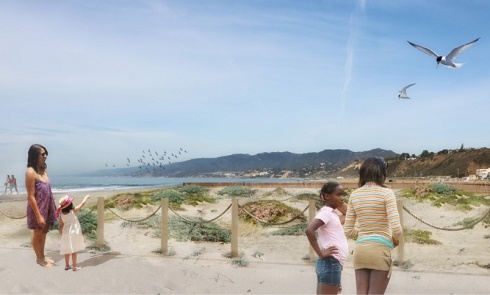 Santa Monica Beach Restoratiion Project (Rendering Courtesy of The Bay Foundation)
"The project will evaluate increased protection from sea level rise and erosion for coastal infrastructure and residences, while also providing a vital refuge for coastal vegetation species, invertebrates and birds, which are locally rare," Bay Foundation officials said.
Creation of the area is expected to take about three to four weeks.
A path will be included through the area, so beach visitors can view it without disturbing the new ecosystem. There will also be plenty of bird watching opportunities.
"The most exciting part of this project for me is the chance to show people what a different kind of beach can look like and what it can actually do," Bay Foundation Executive Director Tom Ford said.
He added, "This project may clearly demonstrate that the beach can again be a place for wildlife and people while providing protection from sea level rise in a very cost effective manner."
Ford said the project was "using Mother Nature to protect us from Mother Nature by providing Mother Nature with some space on our urban beach."
Funding is coming from the U.S. Environmental Protection Agency and some sponsors, according to the Bay Foundation.
Related to this project, the City of Santa Monica has launched a virtual reality installation at the Santa Monica Pier that shows how sea level rise will affect the shore line in the coming decades ("Santa Monica Pier Installation Provides Glimpse of Sea Level Rise," August 31, 2016).
"The public can see how the beach and infrastructure will flood with sea level rise and big storms by the end of the century," the Bay Foundation said.
For more information on both projects, visit santamonicabay.org.