By Jason Islas
Lookout reporter
March 12, 2014 -- Opponents of a major development in Santa Monica's industrial corridor submitted 13,440 signatures Tuesday, more than twice the number needed to put the controversial project before voters in November.
It will take about a month for the LA County Registrar to verify whether 6,100 of the signatures -- the 10 percent of Santa Monica's registered voters needed to qualify the measure -- are valid, according to City officials.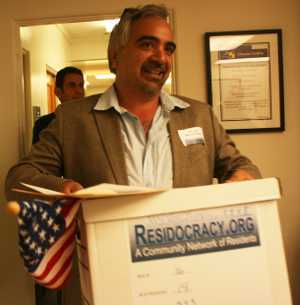 Residocracy founder carriers one of 30 boxes containing petitions to the City Clerk's office (photos by Jason Islas)
Dozens of local activists -- waving American flags -- gathered on the steps of City Hall late Tuesday morning with more than 30 boxes filled with copies of the petitions signed after the City Council approved the 765,000 square-foot development on February 11. ("Santa Monica City Council Narrowly Approves Bergamot Transit Village," February 5, 2014)
"We're here to show our elected officials that our voices matter," said Armen Melkonians, a former City Council candidate who spearheaded the referendum drive through his website, Residocracy.org. ("Santa Monica Resident Group Gears up for Referendum," February 7, 2014)
Melkonians and other opponents of the project have argued that the mixed-use residential and commercial project -- located across the street from one of three future Expo Light Rail stations in Santa Monica at 26th Street and Olympic Boulevard -- is too large for the bayside city.
A State-mandated environmental impact report (EIR) found that the project could generate as many as 7,000 new car trips a day, which opponents say is too much for the already congested area to handle.

About 11,200 of the signatures were gathered by Residocracy volunteers and their allies, including Santa Monicans for Renters' Rights (SMRR) and Santa Monica Coalition for a Livable City (SMCLC), Residocracy reprsentatives said.

Paid signature gatherers collected about 2,200 signatures, according to a press release issued by supporters Tuesday.
One of the referendum drive's biggest financial supporters was the Huntley Hotel, which donated $10,000 of the $22,489 raised by Residocracy through March 3, according to campaign finance disclosure forms submitted Monday.

The Huntley Hotel, located across town from the proposed Bergamot Transit Village project, recently mounted a campaign against the planned $255 million redevelopment of the neighboring Fairmont Miramar Hotel, which many of Bergamot Village's opponents also oppose. ("Huntley Hotel Backed Santa Monica Slow-Growth Group, Documents Show," February 1, 2013)

With the referendum petition submitted, the City Clerk will hand it off to the County Registrar's office, which has 30 business days to verify that at least 6,100 of the 13,440 signatures collected are unique and from registered Santa Monica voters.
With more than twice the number of signatures required, political observers said it is likely the referendum will meet the threshold to qualify for the November ballot even after duplicate and invalid signatures are removed.
If the measure qualifies, the City Council will have a chance to decide whether to rescind approval of the project, hold a special election or let it go on the ballot in November.
Aside from the referendum, the Bergamot project faces a legal hurdle.

Residocracy ally and slow-growth group SMCLC announced a lawsuit Monday against the City allegeing that the EIR was faulty and that the project doesn't conform to the City's recently-adopted Land Use and Circulation Element. ("Santa Monica Coalition for a Livable City Announces Lawsuit to Halt Hines Development," March 11, 2014).