By Jason Islas
Staff Writer
September 23, 2013 -- It has been four years since a team of Santa Monica High School students went to work converting a 1971 Volkswagen Beetle into an all-electric car.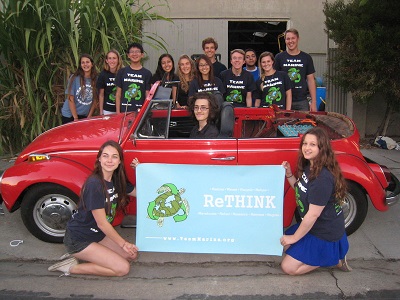 Santa Monica High School Students with their electric car "Volts Watson"
Last week, the years of work finally paid off when Team Marine -- a group of students from 14 to 18 years old -- finished replacing the red convertible's combustion engine and gas tank with an electric motor and a 30-kilowatt-hour lithium iron phosphate battery pack.
The project's lead engineer Patricio Guerrero has been working on the car -- known as the "Volts Watson" by the team -- since he was a junior at Santa Monica High School.
Last week, the "Volts Wattson" took to the highway for the first time and it was "freaking beautiful," said Guerrero, now in his second year at Santa Monica College.
"It was really nice because I've been with this thing for three years and every time I saw it... it was never really moving," he said. "Once it moved, it brought life into it. It gave (the car) a whole new personality."
Volts Wattson's first ride took the team from West Coast Electric in Hyde Park -- where the car was assembled -- to the eastern boarder of Santa Monica.
But that's just the beginning, said Guerrero. "We estimate that the car could go 100 miles," he said, "but we still haven't tested it."
That's partly because there's still more work to be done, he said.
Still, he considers the project, which cost about $30,000, a triumph.
"The new thing about our project is that it's an educational tool," Guerrero said. "We designed the car so that the parts are clearly visible so that everyone can see how it's put together and how it works."
Benjamin Kay, a science teacher at Samohi and Team Marine's coach, said that this project was perhaps one of the most ambitious in the seven year history of the student-founded environmental advocacy group.
"We've built solar boats, and even watercraft made from plastic straws and bottles, but never anything like this," Kay said. "This was a prodigious mission, and as a teacher, I am proud beyond words of the students' achievements and so thankful to our many community partners."
Among those partners are the City of Santa Monica, Alliance for Climate Change, Trexa and Wells Fargo, which provided the bulk of the project funding, Guerrero said.
For Guerrero, the project's significance is far-reaching. Team Marine showcased Volts Wattson at the Santa Monica Alternative Car Exposition on September 20 and 21 and the students have plans to take the car on tour throughout Southern California.
"Electric cars are more than about helping us save money," he said. "They help us to be sustainable."
And Guerrero, who splits his time between his classes at SMC and an apprenticeship at Left Coast Electric, hopes that he can take what he's learned on this project and apply it in his future.
"I feel like, as an engineer, I want to work on the inventions that help people survive and help us go further and further," he said. "I've always loved technology and how it can benefit people in the community."