By Jason Islas
Staff Writer
July 10, 2013 -- A year and a half after the City Council gave the project a green light, Santa Monica will open its first universally accessible park Saturday where children of all physical abilities can play together.
The grand opening of the $1 million park -- starting at 10 a.m. at the 2900 block of the beach between Barnard Way and the bike path -- will mark the culmination of years of planning and advocacy by Santa Monica's Disabilities and Recreation & Parks Commissions.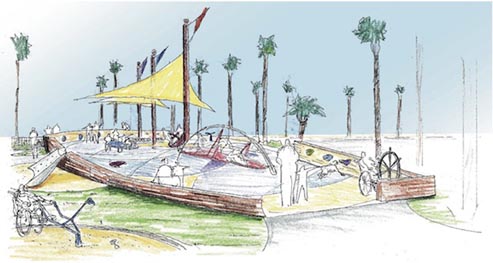 Preliminary sketch of universally accessible park design. Courtesy of the City of Santa Monica
"A universally accessible playground is a playground for all abilities," said Recreation & Parks Chair Phil Brock. "If you're a child in a wheel chair, if you're a child with a hearing problem, this playground is for you.
"It's also a playground for all children," he added.
Brock said that the park is designed to be fun for children, no matter if they are able-bodied, in a wheelchair or dealing with some other physical or cognitive disability.
Beach Administrator Judith Meister said, "There will be a wall which we call a sensory wall which will have tiles. Children, whether they are able to see or not, will be able to touch it."
"The entire surface is accessible to anyone in a wheelchair," she said. "It's a safety surface."
While the usual sand features have been replaced with a rubber surface, there will still be an elevated sand box where kids in wheelchairs can play with the sand alongside other children, she said.
There is also a climbing arch for kids.
"There are quiet spaces where a child can just sit and interact with something that they can just touch," she said.
The playground was custom-designed by Katherine Spitz Associates, Inc. for Santa Monica to feature a "sunken ship" element.
"The playground celebrates the marine environment with sensory and active play that recall elements of the marine world, providing an accessible place for children of all abilities to play on the beach," said the playground's designer, Katherine Spitz.
Meister said the ship element will excite the children.
Children will be able to "play on the inside of the ship and around the ship," she said.
"Rather than being a typical, prefabricated structure," she said, "this is a little different because the ship has been formed out of concrete."
For Brock, it is important that the playground is as fun for kids without disabilities as it is for those with them.
"It has a lot of different features that all children will be able to use and love," he said.
Santa Monica is joining several nearby cities in building universally accessible playgrounds including San Clemente.
Brock hopes that universally accessible playgrounds become the norm.
"Fifty years from now, there won't be a thing called a universally accessible playground," he said. "All playgrounds will be accessible to everyone."
Brock added that he thought it appropriate that the park be opening now, since July is Parks & Recreation month.
"It's very fitting that we will have a universally accessible playground opening as our newest park during Parks and Rec month," he said.