By Jason Islas
Staff Writer

February 13, 2013 -- "I splurged on this bike," said Lee Hildebrandt, one of 16 Santa Monica seniors who turned out Tuesday morning for a bike tour of the bayside city's "sweet spots."

"This is my Cadillac," the spry septuagenarian boasted as she posed with her pink and black beach cruiser, complete with flames painted on the frame. Each of the two valve stems on her tires were topped with black-and-white dice.
Hildebrandt with her "Cadillac" (photos by Jason Islas)
"I was afraid to ride," she recalled about her first time going out on the senior social ride in October.
The first ever senior social ride -- a result of the partnership between the Santa Monica Bike Center, the Commission for the Senior Community and the City -- took more than 20 seniors on a guided ride to the Annenberg Beach House. ("Santa Monica's Seniors Ride Again," October 3, 2012)
"I liked (the ride) so much, I bought a bike," Hildebrandt, a transplant from New Mexico, said. "It's fun with the group. It gives you a little more confidence."
Tuesday's leisurely three-and-a-half-mile ride took seniors from the Bike Center at Second Street and Colorado Avenue, up Sixth Street, past the Main Branch Library, up to Montana Avenue and back around again.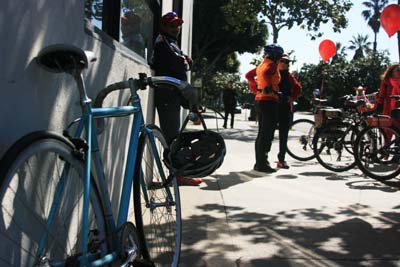 Riders wait outside for the others to finish indulging in treats
Riders dismounted their bikes at Sixth Street and Wilshire Avenue for a chance to sample Vegan ice cream at the Interim Cafe.
Senior Commissioner Rochelle LeBlanc gaurded the bikes while other riders swarmed the man who came out of the cafe with a tray of treats.
LeBlanc, an avid bicyclist of many years -- she threatened to get angry if the exact number should appear in print -- joined Bike Center General Manager Ron Durgin and City employees Michelle Glickert and Diane Cancino as a ride leader Tuesday.
Blondie was an easy pick for the group's mascot Tuesday
The group ride, said LeBlanc, helps seniors to "feel safe enough that they can ride.
"A lot of them don't know what their rights (as bicyclists) are," she said. Earlier, she had explained to a group of three or four bicyclists that if they saw a bicyclist painted on the street, it meant they could take up the whole lane.
The train of seniors on bikes -- many of them with red balloons trailing behind them to celebrate Valentine's Day -- continued northward on Sixth Street past the Main Branch Library to a chocolate shop on Montana Avenue.
Daniel, a 30-year Santa Monica resident from Taiwan, cruised up the quiet stretch of Sixth Street north of Wilshire Boulevard on a bike he borrowed from the Bike Center. It was his first time on the senior ride.
"My wife signed us up," he said, but she had a problem with her shoulder so he did the ride on his own.
"I haven't been on a bike in 10 years," he said. "But I think it is like swimming. You never forgot how."
Standing outside John Kelly Chocolates on Montana Avenue, David, a three-year resident of Santa Monica, also by way of Taiwan, said that his wife couldn't make it because she was busy taking care of her parents.
David reminisced briefly about his childhood. He said he was born in mainland China on the eve of the World War II. He fled to Taiwan when he was 10 years old as the country fell under the control of the Mao Zedong's Communist forces.
But that was a world away from where he was today, on Santa Monica's wealthy Montana Avenue shopping district, enjoying a leisurely bike ride with new friends and snacking on gourmet chocolate.
Perhaps there is something about riding a bike that reminds people of their youth.
"I haven't ridden regularly since college," said Reina, as the group stopped in front of La Monarca Bakery at Wilshire Boulevard and Euclid Street, the last stop on the circuit of confectionary shops.
Hildebrandt celebrates the candy she bought for herself
Most of the group had gone inside to sample some of the wares, but she decided to stay with the bikes.
Reina said she had grown up in New York. Bike riding there was different because the cars were stopped but the bikes were still going.
In Los Angeles, traffic zooms right along with bicyclists, sometimes at speeds that can harrow even veteran riders.
"Riding with people who know what they are doing is a real comfort," she said, nodding to Durgin and the others leading the tour.
Milling around at one of the three pit stops
The riders regrouped the Bike Center where they began returning their borrowed equipment and started saying their good-byes.
A few even started making preliminary plans for April's ride.
"We could try Venice," someone suggested.
"Today was a real treat," Hildebrandt said through a smile. "I'd never ridden on Montana before."
For more information about the senior ride, contact Diane Cancino at (310) 458-2201 ext. 5265 or send her an email at diane.cancino@smgov.net.
The group gets ready to set out