By Jason Islas
Staff Writer

February 12, 2013 -- Santa Monica College (SMC) opened a $600,000 bike parking lot Monday, providing 400 new parking spaces for bikes, more than doubling the current number.

The three-quarter acre parking lot, which is directly across from the campus police office, also provides secure skateboard parking and "fix-it" stations where students can give their bikes a quick tune-up.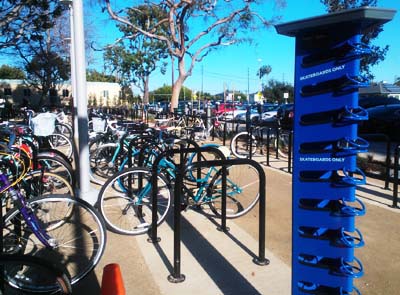 SMC's newest bike parking lot, complete with secure skateboard parking (photo by Jason Islas)
"There's such an increase in the number of students who are riding bikes to the campus, we needed to increase our bike parking sooner rather than later," said Greg Brown, SMC's director of facilities planning.
"During our peak periods, all our bike parking was getting filled," he said, adding that it had become a hazard. "Students would tie their bikes to railings or try to bring their bikes into buildings."
According to a study conducted in the fall of 2012, about 4.5 percent of SMC students ride bikes to campus.
Of the 28,000 students enrolled at the college, about 17,500 come to campus on a regular basis, according to Genevieve Bertone, SMC's director of sustainability.
With the new parking lot, there is now a total of 710 spaces on campus where students can securely stow their bikes.
The parking lot is just one step the college is taking "to grow the diverse modes of transit" used by the student body, Bertone said.
"About 74 percent (of SMC student) take some form of alternative transit," she added.
The parking lot is part of the college's larger bike parking master plan, which lays the groundwork for nearly 1,000 bike parking spaces to be built at strategic locations throughout campus, Brown said.

"We have several projects that will be in construction in the next couple of years," he said. "Every project will have bike parking connected with it."
Among those projects are the new Student Services Building and the Academy of Entertainment and Technology Building on Stewart Street, he said, adding that both will have bike parking attached.
The master plan also anticipates 160 new bike parking spaces at Pearl and 26th Streets, 280 spaces along Pico Boulevard adjacent to Drescher Hall and 80 spaces next to the Theater Arts building.
Late Monday afternoon, the lot was only about half full, but Brown expects it will start filling up as word spreads.
"I'm sure it's going to get quite a bit busier," he said, noting that the parking lot is along Pearl Street, which is much more amenable to riding bikes than Pico Boulevard.
"We gave ourselves some room for growth," Brown added.
On Monday afternoon, Herman was walking through the parking lot on his way to class, taking time to look at the blue towers meant for secure skateboard parking.
"I think this is great," he said, "even though I don't have a bike."
Though he currently drives to school from West Los Angeles, Herman said he was thinking about getting a bike for the commute.
"I'm just sick of dealing with parking," he said. "It's crazy."
George parked his bike at the west side of the lot. "This makes it a lot easier," he said. "It's great to have all this space."
The six-month-long construction project was funded by Measure AA, the $295 million bond measure which won a landslide victory in the 2008 election. Measure AA increased average homeowner taxes by $7.34 a month (and $1.12 for renters) in order to fund improvements to SMC's outdated facilities, including an overhaul of Corsair stadium.
There will be a grand opening ceremony for the bike parking lot on February 28 at 11:30 a.m.