By Jason Islas
Staff Writer
May 16, 2012 -- Weighing in at more than 8,500 pages, the environmental impact report (EIR) for the future Bergamot Transit Village likely will go unread by even the most zealous civic watchdog, despite an extra six months delay in the process.
Neither the applicant nor City officials have given a reason for delaying the start of hearings on the 7.1-acre mixed-use project at the old Papermate site, which was expected to go before the Planning commission next month.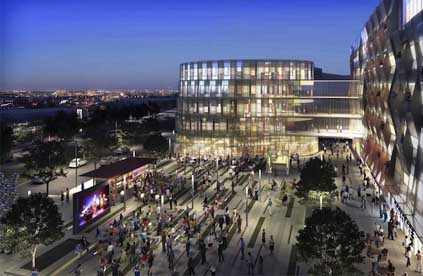 Bergamot Transit Village Center at night.
Images from plans filed with City of Santa Monica Planning Department.
But eyebrows have been raised by the hefty EIR tome, a five-volume compendium of text, data, analysis, charts and the occasional picture that tells the epic (and theoretical) tale of what life would be like if the project at 1681 26 Street is built.
"I can't remember reading (an EIR) that long," said Council member Bob Holbrook, who has sat on the dais since 1990. "I'm not going to read 8,000 pages. That's probably a record."
In fact, at 8,711 pages, the EIR is longer than War and Peace, Remembrance of Things Past, the U.S.A. Trilogy, Atlas Shrugged, Gravity's Rainbow, Infinite Jest and part of Moby Dick combined, according to an analysis by The Lookout.
And its reams of facts and figures -- which take up 6,574 pages -- can be just as alienating as any modernist literary epic, including Pound's Cantos and Zukofsky's A.
Choosing her words carefully, Jing Yeo, the City's project manager, admits that the voluminous report is "much more than usual."
She said that the main reason for the size is the amount of traffic impact analysis.
"Seventy-five percent of the EIR is dedicated to traffic," she said, specifically to "turning movement calculations."
What exactly are "turning movement calculations?"
Basically, these calculations tell us where the traffic goes, Yeo said. The EIR looks at 97 intersections at various times of the day that would be impacted by the project.
Trying to wade through the thousands of pages of data, however, is a job best left to the experts.
Page from EIR prepared for the City of Santa Monica by Atkins
"Anyone who reads all of this deserves a medal," said Holbrook. "It's like reading your way through a library."
The report -- which one source told The Lookout cost more than $1 million -- doesn't lend itself to easy summary. "The issues are complex," said Yeo, by way of summing up the report, which took over a year and a half to complete.
"We make sure that the EIR is a very objective process," she said.
And it is a slow one. The developer, the Texas-based Hines, already scaled the project back from nearly one million square feet to the proposed 766,000 square feet in response to residents' complaints about its size. ("Hines Project Shrinks in Response to Criticism," August 17, 2011)
Still, opposition has been growing since the City council voted 6 to 1 last August to direct staff to negotiate a development agreement for the smaller project -- which includes creative space, retail, and residential units in five buildings standing five to seven stories tall.
The developer also added a new park and street, open spaces and walkways and varied the building heights and facades.
But the reduced project does not seem to have allayed the concerns of neighboring residents and community leaders around the Westside, many of whom are relying on the EIR to gauge the impacts. ("Santa Monica Coalition Fires Legal Missive Opposing Bergamot Project ," March 13, 2012)
"It's important for people to have time to look at it and understand it," said former mayor Paul Rosenstein, who also sat on the City's Planning Commission. "While, in general, transit-oriented development is appropriate, it's important that we understand the potential impacts of a project of this magnitude.
"Traffic in this area is very significant and we need to understand how his project won't aggravate the situation," Rosenstein said. "As much as the new development as possible should be housing so that the thousands of people who already work in this area will not clog up the streets with traffic."
But even if one were so inclined to finish the behemoth report, "There won't be any surprises," said Holbrook.
"I've never seen the results of (an EIR) that weren't entirely predictable," he said.
If that's the case, then Bob Holbrook has saved us all a lot of reading.