By Ann K. Williams
Staff Writer
July 18, 2012 – Henry Gaylord Wilshire was a man who wasn't afraid of contradictions. He was a committed socialist who made and lost half a dozen fortunes, along the way founding the boulevard that bears his name.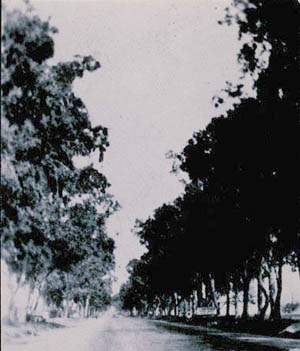 Wilshire Boulevard in 1923 (photos courtesy of Santa Monica Public Library)
Wilshire's colorful and unusual life was the topic of biographer Louis Rosen's illustrated lecture on his book about "The Millionaire Socialist" at the Ocean Park Branch Library Saturday afternoon.
"Chutzpah," is the word Rosen said best describes Wilshire. "He wasn't afraid to do something even if he didn't know what he was doing."
Early on, Wilshire's business dreams ran afoul of the trusts that ran American industry in the 1800s, Rosen said as he described key events in Wilshire's life. Andrew Carnegie forced Wilshire's father to sell the family steel mill by driving the price of the commodity down.
That trauma and exposure to the literature of Henry George, who advocated a tax on landowners, set Wilshire off on a lifelong crusade to promote socialism in America.
"He was a prophet in some ways," said Rosen. As early as 1916 he talked about concepts that would become the basis for Social Security, unemployment insurance and Medicare.
Wilshire also predicted the automobile would be integral to the development of Los Angeles.
A gathering of horseless carriages along Wilshire
In the late 1880s, Wilshire bought an abandoned barley field just west of downtown Los Angeles. His plan was to "sit on it until the city grew out to meet it," Rosen said.
After helping lay out Pine Street in Long Beach and Commonwealth Avenue in Fullerton as both cities were getting off the ground, Wilshire returned to Los Angeles via New York City where he'd gone to check out the hub of American socialism.
He drew up plans for an automobile-friendly boulevard from downtown to the burgeoning beach resort of Santa Monica and gave 2,000 feet of the first leg of the eponymous boulevard to the City of Los Angeles in exchange for the right to develop lots along it.
Los Angeles' billboards were another of Wilshire's innovations. He and his brother William founded the first billboard company in the city, taking advantage of the captive audience who rode the trolleys along 6th and 7th Streets – he'd insisted Wilshire Boulevard be reserved for cars.
Cars racing down Wilshire Boulevard, 1912
But Wilshire's overriding passion was socialism and its power to transform capitalism into something more humane. Over the years he ran for congress twice, for New York State Attorney General, even for seats in the British and Canadian Parliaments. He always lost – he expected to – but his campaigns spread the Socialist Labor Party's message to the public.
His labor of love was his money-losing magazines, The Challenge and Wilshire's Magazine. Wilshire's Magazine was the largest socialist magazine ever published in the United States with circulation of over 400,000 at one point, though at five cents an issue – priced for the working class – it was a financial black hole.
His magazine might have drained Wilshire's finances, but it was a vehicle for stories by Jack London and Upton Sinclair, along with contributions from the likes of Leon Trotsky and Oscar Wilde.
Wilshire, London and Sinclair became fast friends. "You couldn't go to a socialist event in the country without seeing these three guys," said Rosen.
Wilshire was forced into a spell of somewhat shady business dealings to keep his publishing dream alive. He bought a gold mine in the Sierra Nevada mountains near Bishop but it was ultimately as profitless as his magazine and his efforts to sell stock in it got him in trouble with the U. S. Postal Service.
His last venture, an electronic belt for which he made dubious health claims – it could cure cancer, migraines, exzema, you name it – got him in hot water with the American Medical Association. He died of a heart attack before the authorities could shut his business down, though he wound up selling at least 50,000 I-on-a-co belts.
"He was a smart guy, the question is whether or not he was a crook," said Rosen.
Wilshire's personal life was as colorful as his professional one. His first wife, Hannah Owen, was an anarchist who believed "you don't use votes to change the world, you use bullets," Rosen said.
She befriended Emma Goldman and anarcho-communist Prince Kropotkin who put the couple up at his estate in England.
More pragmatic and moderate than his wife, Wilshire eventually divorced Hannah, saying, "I am glad to get rid of the fiery piece of Welsh rarebit."
Years later, he met and married Mary McReynolds, who, after studying with Sigmund Freud and Carl Jung, became the first psychoanalyst in Los Angeles. She was known for giving lectures on the subject while dressed in Grecian robes.
"She kind of saved him," said Rosen. "She was the common sense."
Rosen's next book might be about Mary. "She has a whole story herself...She was a good person," he said. "The older people [in Bishop] remember her very fondly."
A former high school history teacher and a high school principal in La Verne and San Dimas for 19 years, Rosen was drawn to his subject by his love of Los Angeles history.
There might have been a more personal attraction as well. "My father was kind of like that. He was always going into business, always going broke. He wasn't lazy," said Rosen.
Rosen plowed through 35 boxes of letters and documents in the UCLA Special Collections Library and five boxes of correspondence in the Huntington Library, as well as travelling across the state and talking to people to gather material for his book. "I'm still learning," he said, adding that whenever he gives a lecture people tell him new things about Wilshire and the region's history.
It took Rosen a year and a half writing part-time to finish the book. "It took me more time to get permission to use the pictures than to write the book," he said.
Although he'd already had a couple of books put out by publishing houses, including "College Is Not For Everyone," Rosen decided to self publish "Henry Gaylord Wilshire: Millionaire Socialist."
He said he let go of the idea of making any money and liked the idea of doing what he wanted to do with the book without a publisher looking over his shoulder.
Rosen promotes his book by giving lectures throughout Los Angeles.
He's got a lecture scheduled for the evening of August 23 at the Santa Monica Bay Women's Club.
This thumbnail sketch of Wilshire's life touches on only a fraction of the man's adventures. For the full story and book ordering information, see Rosen's website at www.louisrosen44.com.