By Melonie Magruder
Lookout Staff
September 21, 2011--Long before Pamela Anderson's red swim suit showed up, the lifeguards of Santa Monica Bay were busy keeping our beaches safe, with an estimated 12,000 rescues a year.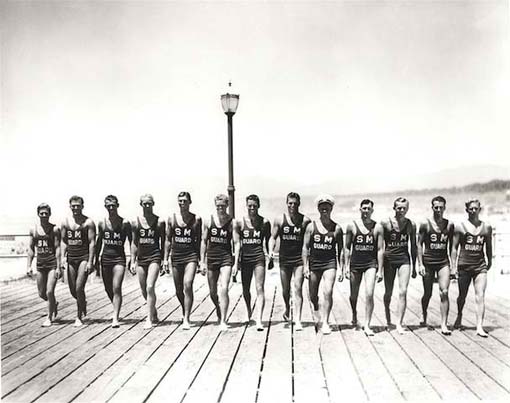 Lifeguards of yesteryear. Photo courtesy of Arthur Verge
On Thursday, 38-year veteran of the lifeguard service, Dr. Arthur Verge, will give a lecture on his new book, "The History of the Lifeguards of Santa Monica Bay," at the Santa Monica Bay Women's Club.
Verge, a history professor at El Camino College, has spent a career watching the waves, collecting photos and memorabilia of the lifeguard crews, and written two books cataloguing the duty, the quirks and the heroism of those sparsely clad sentinels who inhabit the towers on the beach.
"People might not know what an elite group of people the lifeguards are," Verge said. "It's an arduous task to try out for the team. Maybe 300 people take the test and only the top 25 are considered. These are champion athletes and people."
In 1974, the Santa Monica Lifeguard crew merged with the Los Angeles County Lifeguard service, followed by the L.A. City crews a year later. The current Lifeguard Service covers 72 miles of beach in L.A. County, from Long Beach to Ventura (and Catalina Island). There is a full time staff of 120, with 700 to 800 part time staff, known as "recurrents," who mostly staff the lifeguard towers on the beaches.
Verge said that one of the biggest changes to the crew since he first joined, back in 1974, is the number of women who are now hired. Thanks to "an explosion" in competitive water sports, strong women swimmers have a large presence now, with one out of five lifeguards being female.
Other things, however, have not changed. Verge said that beaches were even more crowded 75 years ago, when beach area was more modest, than today. And the lifeguard crew's job then, as now, was mostly to "pull people out of the rip tides.
"An old crew member, Tommy Zahn, once told me that a lifeguard will always have a job," Verge elaborated. "If the economy's good, the county will always have enough to pay you. And if the economy is bad, people go to the beach to forget their troubles, so they'll always need lifeguards. Our coastal economy preserves our jobs."
In the early years of the lifeguard service, it attracted a following of Hollywood heavyweights and swimming champions. Duke Kahanamoku of Hawaii brought surfing to Santa Monica. Johnny Weismuller was made an honorary lifeguard, since so many of the team would stunt double for him in the Tarzan films. Gary Cooper was a fan, along with Marion Davies, Darryl Zanuck and Cary Grant, who kept houses by the beach.
The lifeguard service expanded along with the explosion of coastal real estate development in the early part of the 20th century. Abbot Kinney hired lifeguards to patrol the beach to help sell his beachfront properties. Kinney's wife was responsible for raising funds to purchase the first lifeguard boat in Venice and organized lifeguards into a crew.
"There was no television in those days, so the beach was the place to be," Verge said.
As part of his lecture, Verge will present a treasure trove of vintage photos from the Santa Monica Beach's history of lifeguards, beginning in 1934 with a troupe of healthy, muscled young men who sported what looks like wrestling team uniforms as bathing suits. Lifeguards were recruited then as they are now.
"How fast can you swim," Verge asked. "Nine out of ten rescues, then as now, are pulling people from rip currents and you have to get out to them fast."
Back then, lifeguards would carry long metal cans – or rescue tubes (invented by a Santa Monica lifeguard) on rescues. Today, the tubes are made of plastic polymers, but the essentials of the job remain unchanged – vigilant eyes on the surf, anticipating problems and steering crowds away from dangerous behaviors, like drinking.
Some of Verge's photos reveal local beaches in conditions few of today remember.
"In 1983, the El Nino storms really reconfigured the shape of the beaches," Verge said. "The winds blew away the sand so you could see the original pilings of the Venice Street Pier and even remnants of the rides at Pacific Ocean Park. The sands eventually covered it all again."
Thursdays lecture promises to offer even more scintillating tidbits of the lifeguard crew's history. Verge, who hopes to make 50 years of service before he retires, is as enthusiastic today about lifeguarding as he was in 1974.
"I think my dad, who was a lifeguard for 16 years, put it best," Verge said. "I go to the beach every day. Why not get paid for it?"
Dr. Arthur Verge will present "The History of the Lifeguards of Santa Monica Bay" Thursday, September 22 at the Santa Monica Bay Woman's Club, 1210 Fourth Street, at 7:00 pm. Admission is free. For more information, contact Alison Rowe at (323) 573-7574.