By Melonie Magruder
Lookout Staff
September 13, 2011 -- Track 16, at Bergamot Station, would not normally come to mind as a likely venue for a confessional.
But that's how it was transformed at last week's presentation of "Live Talks Los Angeles," in a deeply personal interview with veteran film actor Hal Holbrook in front of a rapt audience.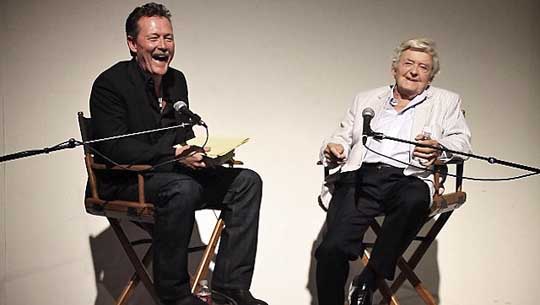 Robert Patrick and Hal Holbrook share a laugh. Photo by Emily-Rose Wagner.
Holbrook, interviewed for the spoken word series sponsored by KPCC (California Public Radio) and KCET (California Public Television), with an engaging lack of superficial gloss by fellow actor Robert Patrick, spoke primarily not about Emmy-winning performances over five decades, nor his Oscar nudge as the oldest nominee in Academy Awards history (in the Best Supporting Actor category), nor much about his Tony-winning title character in his long-running one-man show, "Mark Twain Tonight."
Instead, Holbrook talked about survival.
"I'm trying to remember ever being held by my mother and there's nothing there," Holbrook said. "I had a pretty tough childhood and if there's a theme running through my life, it's survival."
Survival is also the theme of Holbrook's new memoir, "Harold: The Boy Who Became Mark Twain." In the book and the interview, he detailed the first half of his life, and the hardships he faced and conquered with luck, pluck and a dark resolve to hide his true self from the rest of the world.
Dressed in a casual seersucker jacket in the friendly confines of Track 16 – the trolley car, vintage wooden bar and various neon Americana signs set a warm ambiance – Holbrook spoke of a childhood that began when his parents disappeared when he was two years old, and ended when he entered the army after the bombing of Pearl Harbor, feeling enough of an outsider that he didn't hesitate a second in volunteering to room with African-American soldiers.
Holbrook and his two sisters were raised by his grandfather, after his father was committed to an insane asylum and his mother took off. He attended boarding schools, including one where he was beaten regularly and sadistically by its headmaster. After one such beating, Holbrook said he broke down while at the keyboard for a piano lesson. His teacher just put her arms around him and held him.
"That simple act of kindness is something I've remembered all my life," Holbrook said, tearing up. "And it's those little acts of kindness that give you the courage to go forward."
Go forward he did, taking drama classes when he learned "there was no homework," auditioning for local theatre productions while stationed in Newfoundland during the war, and gradually developing the idea of a one man play featuring himself as author Mark Twain.
"I remember coming out of this tiny Broadway theatre where we were going to open and seeing names like Paul Newman and Ann Bancroft, and thinking, 'What the hell am I doing?' I was frightened to death," Holbrook said. "When the reviews came in and were great, I couldn't believe it. I thought they made a mistake."
"Mark Twain Tonight" was broadcast by CBS the next year to an audience of 30 million people. Holbrook toured internationally with the show for more than 2000 performances. He played Twain longer than the author himself (real name: Samuel Langhorne Clemens) did.
Through it all, Holbrook said he always felt safer made up as an old man, in disguise.
"Back in the army, I hid behind this macho, regular-guy character, Holbrook said. "Playing anything close to myself terrified me. It took me forty years to learn to act without fear."
This is exactly the kind of intimate conversation "Live Talks L.A." seeks to capture, the series' producer, Ted Habte-Gabr said.
"With noted authors and painters, we see their finished work, and you're curious to find out where that came from," Habte-Gabr said. "Around L.A., there are a lot of writers and actors who want insight into what created that craft."
"Live Talks L.A." was launched last year with the idea of bringing great speakers – artists, community leaders and scientists – together with provocative interviewers and just "letting them talk." Last year's series saw such personalities as humorist Dave Barry, writer Sandra Cisneros and Dutch activist, Ayaan Hirsi Ali.
Net proceeds from ticket sales to the different events go to local literacy and educational causes like First Book, The Actor's Gang and American Cinematheque. Habte-Gabr said they videotape all events for broadcast on line – for free – and have developed audiences of more than 90,000 viewers in 40 countries.
"That's pretty good for an internet series," Habte-Gabr said. "We get surprising, improvisational moments. When Roger McGuinn (former guitarist for The Byrds) was on last November 22, he was asked during the Q and A about John F. Kennedy. Roger just picked up his guitar and started playing 'He Was a Friend of Mine.' You don't plan for that kind of thing."
Upcoming events in Santa Monica include Dave Barry, ex-Laker Jerry West, writer Adam Gopnik and actor John Lithgow (at the Aero Theatre). Habte-Gabr said that "Live Talks L.A." is really just part of a long human history of story telling.
"But it's nice to see these stories go from being heard by just a hundred people to thousands," he said. "Everyone can listen in."
Listen to former broadcasts and check out upcoming schedules at www.livetalksla.org