By Ann K. Williams
Lookout Staff
February 23, 2011 -- The Lookout is conducting a series of interviews with city notables to get a sense of what's to come in Santa Monica. Earlier this month, we sat down with the city's Director of Planning Eileen Fogarty who shared her vision of what the city will look like as it develops in the next few years. Today's story will take a look at plans for downtown Santa Monica, including the civic center area.
Last week, the Lookout took our readers on an imaginary ride on the Expo Light Rail on its way across the city to the ocean. See Story: "Here Comes the Train and Bikes and Pedestrians", February 16, 2011
But what will the 4-600 riders on each trainload see when they get off at 4th Street and Colorado Avenue?
While city planners can't say for sure what projects will be approved, and which will see completion, that can't stop them from sketching their vision of the city of 2015, a vision we can imagine will face our riders.
Probably the most radical change to the cityscape will be a much stronger connection between the civic center area and the downtown business district. The connection will be both physical – that is, it will be easier to get from one area to the other – and visual.
So as our imaginary riders get off the train, they'll be entering what Fogarty calls a "gateway" to both areas, providing "complete connections between downtown and the civic center."
One of the first things they'll see will be the entrance to the Palisades Garden Walk where the newly minted Colorado Esplanade meets Ocean Avenue.
Now bounded by a narrow, difficult-to-traverse sidewalk, the intersection – once the freeway next to it is capped – will be an inviting pathway to a seven-acre park.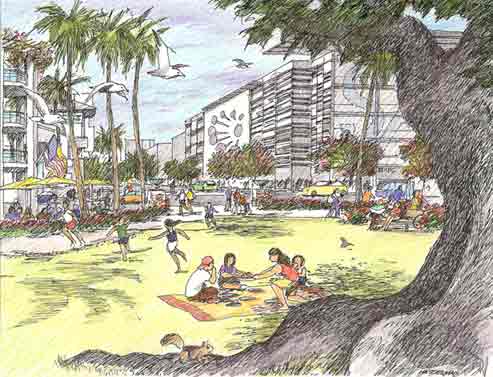 Entrance to Palisades Garden Walk. Drawing courtesy of Santa Monica Planning Department.
The park will connect the two halves of urban Santa Monica and in itself be an agreeable place to stroll, picnic and play.
The freeway cap at Ocean Avenue might be the first of a series that may extend as far west as 7th Street, Director of Planning and Community Development Eileen Fogarty told the Lookout.
Freeway capping creates new acres that can be turned into green space, Fogarty said. Creating a block of capping costs about as much as buying a block of downtown land, she added, and it's been a success in Seattle.
Before exploring north of the Expo station – what people usually mean when they say downtown – a quick look at the civic center area will reveal a lot of changes.
Just south of the new park, flanking the Rand Corporation, a 320-unit housing project called "The Village" will bring a mixed-use, neighborhood feel to the civic center area. Half of the units will be affordable.
Olympic Drive, which now ends at Main Street, will extend to Ocean Avenue, and will run by retail outlets on the first level of the apartment complex.
Further south, The Civic Auditorium – historic venue for storied rock bands and entertainment awards shows – will be renovated. A public meeting in early March should mark the unveiling of plans for the redo, which Fogarty said will respect the historic integrity of the structure.
But many if not most of the visitors arriving at "The Gateway" probably will head north, through Santa Monica Place.
"Santa Monica Place will be the entrance to the Promenade, not the destination," Fogarty said.
Pedestrians will have a choice of many routes, as will cyclists and bus riders.
Planners have to make crosswalks more managable to accommodate the increased number of visitors who arrive by train, Fogarty said. They're considering "scrambles" at some downtown intersections – crossing areas created when all vehicular traffic is halted, and pedestrians can cross diagonally, corner to corner.
Buses will be able to move freely through traffic and a grid of bike paths throughout downtown is already being mapped out.
Drivers aren't going to be neglected. A signal-sync system and realtime traffic monitoring are already in place in downtown Santa Monica. As the system gets more sophisticated, drivers will be directed by signs telling them where to go to avoid traffic jams and find parking.
The bridge to the Santa Monica Pier – an icon visible in countless TV shows and movies, and a huge tourist draw – will be rebuilt with wider sidewalks. And the California Incline – the connection between Ocean Avenue and Pacific Coast Highway – will be rebuilt, also with wider sidewalks and with bike lanes.
Visitors who want to stay overnight to enjoy the city at their leisure will be able to choose from new hotels, or renovated favorites.
The Fairmont Miramar will be transformed. "Renovation is a small word," said Fogarty. "It will be a whole new hotel [although] it will keep some pieces of the old hotel."
And the Holiday Inn at Colorado Boulevard and Ocean Avenue may be redeveloped, even expanded.
The Ocean Avenue Hotel with retail outlets and subterranean parking is already under construction at the Travelodge site on Ocean Avenue.
And the office building at 712 Wilshire Boulevard will become a hotel, with its historic features preserved.
Closer to the heart of downtown, the city now owns a big chunk of the block between 4th Street and 5th Street and Santa Monica Boulevard and Arizona, and will soon invite the public to help planners with their "visioning process."
Parking is likely to be a function of part of the block, which is across the street from a planned new 570-seat AMC movie theater.
The Bank of America on the corner of 4th Street and Arizona is a long-term leaseholder, but that doesn't mean the space it occupies can't change, Fogarty said.
Whatever is ultimately done with the block, Fogarty said she wants the city's goal of "a neighborhood where people live" to guide development of this and other downtown sites.
Downtown should become a "vital" place that invites visitors, where small businesses can thrive, and where locals get can around by foot, bike or bus.
To realize that goal, the city is in the process of drafting a new downtown specific plan that will incorporate Land Use and Circulation Element (LUCE) guidelines. Planners will marry their own analysis with the viewpoints of stakeholders like the Bayside District and residents as they craft the plan, Fogarty said.
They'll also have to consider the transitions between downtown and its adjoining zones, which are more residential, said Fogarty.
The streetscape at Pico and Lincoln Boulevards, the area around St. John's Hospital between 20th street and Cloverfield Boulevard, the urban forest – soon to get an added 1,000 trees – all these and more are subjects of the planning department's attention.
All of these changes aren't a sure thing, but that there will be change is certain.
And while the future won't look exactly like the pictures and maps that are the daily bread of Fogarty's department, people who come to Santa Monica five years from now will definitely see a different place – a better place, planners hope.